Emilio Estevez Just Had An Awesome Mighty Ducks Flashback On Twitter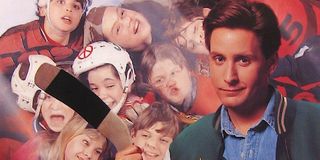 Monday was a big night for a couple reasons. It marked another victory for the Anaheim Ducks hockey team, who were in the middle of Game 5 with the Chicago Blackhawks, and it was the night Emilio Estevez returned to rooting for his old team. The actor, who starred in the Mighty Ducks movies, let his team spirit be known all over social media.
Estevez played Coach Bombay in The Mighty Ducks, D2 and D3, and during the game on Monday he let loose some supportive quacks and cheers for his team on Twitter.
The actor proceeded to live tweet the game, keeping score as it went on.
He even jeered at the other team, telling those "windy city windbags" to "suck it."
And it all paid off! Anaheim coach Bruce Boudreau channeled Coach Bombay to give his Ducks some words of wisdom and self-confidence after a less-then-stellar first half. Yahoo News quoted him as saying,
The Mighty Ducks movies centered on an egotistical lawyer who is pulled over for drunk driving and given court-ordered community service coaching a youth hockey team. He whips these young misfits (and himself) into shape and leads them to victory after victory. The sequel, D2, saw him become coach of Team USA Hockey for the Junior Goodwill Games, and D3 sees the kids grown up a bit, enrolling in prep school and taking on the varsity team.
Estevez was a member of the Brat Pack and starred in films such as The Breakfast Club, Men at Work and St. Elmo's Fire, but he's arguably more widley known for his role as Coach of the Ducks. It's nice to see that team loyalty never dies.
Your Daily Blend of Entertainment News