The Mighty Ducks Reunited And Formed The Flying V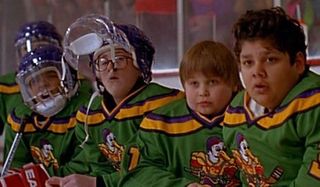 There was a Mighty Ducks reunion over the weekend to celebrate the 20th anniversary of the release of D2: The Mighty Ducks. But don't worry if you're instantly feeling depressed because you weren't there to mark the occasion, because the cast has bombarded the internet with pictures to document their reconciliation. The posse even took it upon themselves to recreate their infamous Flying V formation from the films, but rather than standing on an ice-rink for the picture they used a tennis court instead. Despite this minor discrepancy it's hard not to feel nostalgic looking at the group together again.
But the fun didn't stop there! The cast rallied together for numerous photographs as the afternoon wore on. Perhaps the most impressive of the batch transformation-wise was the thinned down Shaun Weiss, who infamously portrayed the rather portly goalkeeper Greg Goldberg in the franchise. You can see an image of his slimmer frame below:
And just to really ram home how much weight he has lost, check out this rather glorious before and after pic:
Meanwhile, Connie Moreau and Guy Germaine, who are more commonly known as Marguerite Moreau and Garette Ratliff Henson by their families, also cuddled up together for a snap:
For the uninitiated, >D2: The Mighty Ducks was the 1994 sequel to The Mighty Ducks, which came out two years earlier than its follow-up. It continued the story of Gordon Bombay, who was played by Emilio Estevez, an attorney who had previously been forced to coach hockey as part of his community service. Bombay brings the Ducks back together again to compete in the Junior Goodwill Games, but after they embarrassingly lose to Iceland they have to band together to overcome various obstacles in order to progress through the tournament.
Considered to be even more successful than it predecessor, D2 was then followed by another installment to the franchise, concluding what is now commonly regarded as one of the most heartfelt children's trilogies in cinematic history. One of the most memorable scenes from the trifecta of films, as mentioned, comes in the shape of the Mighty Ducks' Flying V formation, which saw all five Mighty Ducks players skating on the ice in the same positions as a flock of ducks, and then passing the puck between them. The Ducks even managed to score a goal using this formation in both D1 and D2!
You can check out a clip of the Flying V formation being used in the first Mighty Ducks below:
Connoisseurs of the trilogy were quick to point out two notable absentees from the gathering. Estevez and Joshua Jackson, who played Charlie Conway in all three films before finding further success with Dawson's Creek and Fringe, either couldn't make it to the reunion or were just camera-shy/embarrassed.