Emma Stone Flattered To Be On Catching Fire Wishlists, But Is She Right For Johanna?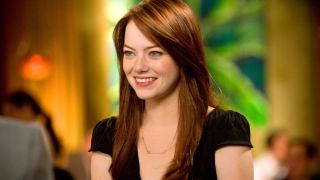 (Image credit: Warner Bros.)
Even while covering one of the hottest movies of the summer, The Amazing Spider-Man, I've got The Hunger Games on the brain. Just before wrapping up a chat with the film's Gwen Stacy, Emma Stone, I mentioned that she's popped up on quite a few fan Catching Fire dream cast lists for the role of Johanna Mason and while she didn't hint at whether or not that might be of interest to her, as a big fan of the books, she was extremely flattered. Take a look at her reaction below:
But still, that begs the question: is Emma Stone even right for the role? Hailing from District 7, Johanna is known for the strategy she used in her Hunger Games that helped her become Victor--she pretended to be a weakling until the time came for her to unleash her "wicked ability to murder." While that description doesn't exactly scream Emma Stone, Johanna does exhibit a playful sass that could benefit from Stone's comedic abilities. As for physical likenesses, the only real details we get are that Johanna has wide-set brown eyes and spiky hair. Colored contacts and the hair and makeup department can take care of that.
But what's most important here is Stone's ability as an actress. Unless you've been living under a rock, Stone is obviously a comedy actress. But, of course, she did just get her drama on in The Help too. On the action front, The Amazing Spider-Man certainly suggests she might have the ability to get in the arena, as does Zombieland. But more important than merely connecting dots is isolating her ability. While the large majority of her resume fits into a specific type of material, Stone is incredibly successful when it comes to making believable, charming and memorable characters across the board. Johanna would certainly force Stone to abandon the majority of the contents in her wheelhouse, but I'd like to bet she could pull it off.
But of course, Stone won't be the only person under the microscope should she get swept up in the casting rumor mill. Even while Finnick Odair has the casting spotlight, there are still rumblings about who should play Johanna. Names swirling around include Kristen Bell, Lyndsy Fonseca, Naya Rivera, Mila Kunis and more. Honestly, I think a large majority of those names would do a fine job, but in an effort to throw some fresher faces into the mix, here's a trio of other actresses worthy of your consideration.
Briana Evigan: Not only would I like to bet a dancer could handle fight choreography with ease, but have you seen Sorority Row and Mother's Day? Evigan could totally handle the competition in the arena. On the acting front, Evigan hasn't really had the opportunity to sink her teeth into a particularly meaty role, but she has made the absolute best of the parts that have come her way.
Phoebe Tonkin: Sadly, now that The Secret Circle is long gone, Tonkin should have some free time on her hands. Funny thing is, Faye Chamberlain actually exhibits a number of qualities I'd expect to see in Johanna – she's feisty, does and says whatever she wants, but also has a layer of honest sincerity, even when she's going head-to-head with the heroine.
Danielle Panabaker: Panabaker has been around for quite a while now, but still needs that breakout role. Most recently she did a solid job leading the Friday the 13th remake, I'm a major proponent of The Crazies and she rocked a memorable episode of Grimm. Panabaker's years of work and her rather wide range suggest she'd be able to jump into any situation and work wonders.
What do you think? Could Emma Stone or one of these three options make for a great Johanna?
Your Daily Blend of Entertainment News
Staff Writer for CinemaBlend.