Ender's Game Comic-Con Fan Experience Displays Futuristic Sets, Flash Suits, Weapons And More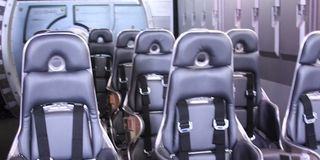 Among the films featured at Comic-Con this year is Ender's Game, which is not only set to be featured in a panel, but is also on display through a walk through "fan experience," which offers a much more vivid preview of the film that's set to arrive in theaters this fall. After picking up my badge and getting some much needed sustenance after a day of traveling, I officially kicked off my 2013 Comic-Con experience by checking out HGTV and Summit's Ender's Game Fan experience. Set up across the street from the convention center at the Hilton Gaslamp in San Diego, the fan experience features various rooms that fans can walk through to look at props and set pieces from the movie, including the Wiggin household, the launch ship, a motion view of the battle room, the student's classroom and bunks.
Set up away from the convention center, this Experience does require a walk across the street, which might seem like a mild inconvenience, but given the amount of space this multi-room display takes up and how packed the convention floor tends to be, separating this experience from all of the other convention foot traffic might help in allowing people a chance to really look around at all of the props, sets and other things featured in the various rooms.
Ender's Game is set in the future when man is preparing for the second war against an alien race called the Formics. Gifted children are recruited to attend a space-set battle school where they're training to fight in the war. The International Fleet is the global government organization running the program, and you can see their logo centered between the two screens in the photo below:
One of the first rooms we get to see is a look at the Wiggin family living room.
Based on that set alone, the future doesn't look all that different from the present day, but we do get a look at the Wiggin kids' photos on the mantle, and some of their outfits:
And in another room, the launch ship set is on display...
And here's a look part of the set of the kids' futuristic looking bunks. You can see the beds on both sides and a closet in the center, which holds their flash suits, helmet and what few personal effects they might have.
We also got to sit in the classroom and check out the very futuristic desks the kids use, including a much more complex mouse.
And we get an up close look at the flash suit and flash gun. These are the outfits that the kids wear when floating around in the zero gravity Battle Room. They use the flash gun to freeze each others' suits.
And speaking of zero gravity, one of the cooler visuals at the experience was a moving view of the Battleroom. Check that out in the video below.
Looks like it could be real, doesn't it?
The experience leaves off with a peek at the 3D printer used in the movie (and information on how you might be able to win it) and there's also set to be a feature that allows fans to have a photo of themselves integrated with the highly anticipated Battle Room. Unfortunately, that part wasn't set up for us to try out this evening, but it'll hopefully be up and running when the exhibit is open to SDCC attendees. Those who walk through the experience should also receive a set of Ender's Game dog tags.
Part of the process of anticipating a new movie is looking at video and photos, both of which are also on display on screens and posters throughout the exhibit, but the Ender's Game fan experience takes previewing to the next level, allowing fans an up close look at costumes, props and sets that will actually be featured in the movie. It's a pretty cool opportunity for those who want a peek at some of the items featured in the film. If you're at Comic-Con this week and you're looking forward to Ender's Game, try to make time for it. There's also the panel, which is set to take place Thursday.
And for those who can't be there, here are some more photos...
Image 1 of 27
Image 2 of 27
Image 3 of 27
Image 4 of 27
Image 5 of 27
Image 6 of 27
Image 7 of 27
Image 8 of 27
Image 9 of 27
Image 10 of 27
Image 11 of 27
Image 12 of 27
Image 13 of 27
Image 14 of 27
Image 15 of 27
Image 16 of 27
Image 17 of 27
Image 18 of 27
Image 19 of 27
Image 20 of 27
Image 21 of 27
Image 22 of 27
Image 23 of 27
Image 24 of 27
Image 25 of 27
Image 26 of 27
Image 27 of 27
Your Daily Blend of Entertainment News
Thank you for signing up to CinemaBlend. You will receive a verification email shortly.
There was a problem. Please refresh the page and try again.