Ender's Game Comic Con Panel Details Announced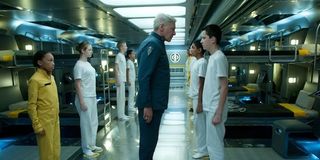 Hot on the heels of the three new International Fleet propaganda posters meant to promote Summit's upcoming release of Gavin Hood's feature adaptation of Ender's Game comes word that the movie will have a pretty big presence at Comic Con in San Diego this year. Not only will the film be featured in Summit's panel, which will include appearances by Harrison Ford, Asa Butterfield and other stars of the film, but there will also be an exclusive fan experience, as well as footage revealed at Summit Entertainment's booth on the convention floor.
With Ender's Game due out this November, SDCC seems like the perfect opportunity to promote the film, which should not only appeal to sci-fi fans but also to anyone who loved the book on which it's based. Based on a popular book by Orson Scott Card, Ender's Game stars Asa Butterfield as Ender Wiggin, a boy selected to attend a space-set battle school where gifted children are being trained for the impending war against an alien race called the Formics. Ender proves to be particularly gifted at strategy. That, combined with his especially compassionate nature makes him a better leader than most, despite his young age.
Many of us who read the book probably wish we could float around in the zero-gravity battle room the kids use as part of their training in the story. While that may only be possible in our imagination, Summit's going to give Comic Con attendees the opportunity to see their picture in the Battle Room as part of their Ender's Game Exclusive Fan Experience, which will be set up outside the Hilton Gaslamp. The set-up will include 8 unique rooms, which represent various iconic environments in Ender's world. Attendees will get to see footage from the film on LED screens, interact with digital content, and integrate photos of themselves into the Battle Room. There's also a home-makeover giveaway set to take place.
The panel will take place on Thursday, July 18 in Hall H. Set to be in attendance are producer Roberto Orci, director Gavin Hood, and stars Harrison Ford, Asa Butterfield, Hailee Steinfeld and Abigail Breslin.
Here's Summit's list of announced Ender's Game-related content.
Check out the trailer for the movie below:
Your Daily Blend of Entertainment News
Thank you for signing up to CinemaBlend. You will receive a verification email shortly.
There was a problem. Please refresh the page and try again.