Ender's Game Release Date Moved To November 2013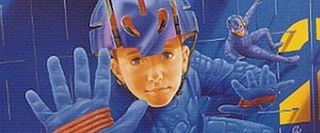 It was looking like, come March 2013, two different alien-related book adaptations were set to hit the big screen within weeks of one another. Summit has made a scheduling adjustment, which means the film adaptation of Stephenie Meyer's The Host won't have buggers to battle at the box office when it makes its March 29 debut.
Those anxiously awaiting the release of the film adaptation of Orson Scott Card's Ender's Game in theaters will likely be disappointed to learn that Summit has pushed the Gavin Hood directed film from its originally scheduled release date of March 13, 2013 to November 1, 2013.
According to the Hollywood Reporter, this scheduling shift is an effort on the part of Summit and parent company Lionsgate to boost interest in Ender's Game by moving its release much closer to the big screen adaptation of Catching Fire, the follow up to The Hunger Games, which is currently scheduled to arrive in theaters November 22, 2013.
As the Reporter notes, this will also give Summit and Lionsgate more time to market Ender's Game.
Beyond my initial disappointment that we'll have to wait even longer for the Ender's Game film, I was also uncertain about the idea of the studios attempting to link Catching Fire with Ender's Game, considering the space-set Orson Scott Card story veers much further into science fiction territory than Suzanne Collins' Hunger Games series. At the very least, I can't say that I'd think to tell people if they liked The Hunger Games, they'd love Ender's Game, or vice versa, though that may be the case. But when you factor in the young cast of characters, and the fact that both stories have kids set up in battle scenarios, it's easier to see how the movies could target a similar audience.
Factor in the math of the situation, as people will likely be lining up to see Catching Fire, and it's not all that difficult to understand Summit and Lionsgate's decision to try to piggyback Ender's Game onto the interest in Hunger Games sequel if they can make it work. It's just disappointing that the wait for the film is going to be even longer.
As THR notes, there are currently no other wide releases set for March 13, 2013, but it's likely some other film will fill the vacated spot. In the meantime, those looking to get their alien fix next March may have to make due with The Host.