Kevin Dillon's Favorite Entourage Scene Was Cut Because An A-Lister Bailed On His Cameo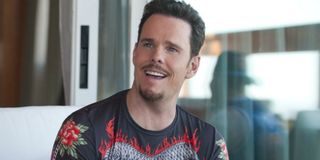 Something like the Entourage cast returning for a big-screen version of the hit HBO series should have been a joyous occasion, but production was unfortunately plagued with dilemma after dilemma. Even worse than getting a project like this off the ground, and the widely publicized pay disputes among the cast members, is the most egregious setback you could possibly think of: Channing Tatum canceled his cameo.
Can you imagine an Entourage movie without a few seconds of Channing? The Magic Mike star with hips that don't lie was originally supposed to appear in a scene that was the favorite of actor Kevin Dillon, who plays Johnny "Drama" Chase. The sequence in question took place during a massive party at the house of Turtle (Jerry Ferrara). As Dillon told The Hollywood Reporter, it has cameos "up the yin-yang" with 20 trailers, one for each of the celebrities. Tatum was supposed to be one of those celebs. In the now cut scene, Drama was supposed to perform a striptease with Tatum, but the actor backed out of his appearance. This turn of events made Dillon do "a lot of whining."
At the end of the day, though, Entourage features more celebrities than it knows what to do with. There's Mark Wahlberg, MMA fighter/Furious Seven badass Ronda Rousey, Jessica Alba, Liam Neeson, Haley Joel Osment, Alice Eve, Armie Hammer, Billy Bob Thornton, Ed O'Neil, Kelsey Grammer, Pharrell Williams, Bob Saget, David Faustino, Gary Busey, T.I., George Takei, Tom Brady…have your eyes watered over yet? That's not even the full list.
The Entourage movie returns all of the original stars, including Adrian Grenier, Jeremy Piven, Kevin Connolly, Ferrara, and Dillon, as Vincent, Ari, Eric, Turtle, and Drama. The boys are back and continue to navigate the shark-infested waters of Hollywood. This time, though, Ari has become the head of a studio and for his first big feature film he wants Vinnie to be the star. But, unfortunately for him, the actor has other ambitions: he also wants to direct. If he tanks this, his career — and Ari's — is pretty much donezo. And it doesn't help matters much that Vincent already took the production budget far beyond the agreed upon $100 million.
Entourage could have benefitted from a little Tatum star power, but it had much larger issues on its hands. The biggest grievances plaguing the production were the salary disputes. Piven, the only established actor outside of this property, was getting paid a few more million dollars than the rest, which didn't sit right with everyone and caused delays. As we previously reported, Piven still walked away with a larger paycheck, but apparently the situation was resolved. THR details a couple other issues with the production, including Connolly's leg injury. Hopefully it can pull off some significant box office numbers…even if it doesn't have Tatum.
Entourage premieres in theaters on June 3.
Your Daily Blend of Entertainment News