Billy Bob Thornton Joins The Entourage Movie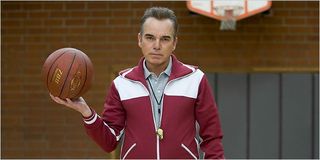 Entourage The Movie is now a thing, baby! The film started shooting this January, reuniting the cast of the hit HBO series for a big, sexy, Mark Wahlberg-produced bash. Back are your old favorites, like Vince, the pretty one, the Dillon sibling, the short dude, and Jeremy Piven! And they're about to be joined by vampires! And Billy Bob Thornton! The distinction may be redundant!
THR describes Thornton's role as if it will fit like a black leather glove: he'll play a billionaire cowboy turned film financier who gambles on Adrian Grenier's Vinny Chase to star in a mega blockbuster. Thornton, who seems like he's been 44 years old forever, will mostly be overseeing the production from afar, as his character will have a twentysomething son on set monitoring the action and ensuring his investment is sound. In other words, Thornton could be literally phoning this performance in, something he's done before many times, figuratively or otherwise. The synopsis doesn't reveal what happens to Thornton's son, but chances are he finds himself at odds with Chase's entourage. Oooh, maybe he's got his own entourage! This should have been a musical.
The best part about all of this: Thornton's billionaire is actually pooling money into a Vinny Chase-led Dracula movie! Yep, the wooden Grenier is going to get a chance to wear some fake teeth and skulk in the shadows as he seduces, then enslaves a bevy of beautiful ladies. Knowing Entourage, they're probably just going to dress Chase's Dracula in modern skinny jeans and give him a five o'clock shadow. But wouldn't it be great if Chase was an old-school cape-and-pallid-skin Drac, mewling about the children of the night?
Doug Ellin is currently directing the film, though the expectation is that more casting will be announced soon. Not like they should have to look very far: HBO had a budget generous enough to allow for massive guest-starring spots for the likes of Wahlberg, Scott Caan (who has been hanging out on set, according to recent Instagram photos, suggesting he's in this too), Carla Gugino, William Fichtner, Gary Cole, Malcolm Macdowell, Sasha Grey, Mandy Moore, Andrew Dice Clay, Edward Burns, Kate Mara, Alice Eve, Leighton Meester, Bob Odenkirk, Seth Green, Stellan Skarsgaard, Anna Faris, Johnny Galecki, Gary Busey, Malin Akerman, Giovanni Ribisi and Peter Stormare. And those are just the names that did arcs on the series; many others stopped by for one episode each, including Val Kilmer's memorable cameo as The Sherpa, one of the show's comedic high points.
Thornton is typically as busy as ever: among the many parts he's got developing in the coming year is a role in The Judge as a character named Dwight Dickham, maybe the most Billy Bob Thornton-esque name ever invented. He's also in the pretty-badass sounding Endangered with James Marsden, Thomas Jane, and a nasty grizzly bear. His upcoming standout part, however, is likely in FX's Fargo, loosely based on the film, and certain to catch more eyeballs than anything Thornton's done in awhile.
Your Daily Blend of Entertainment News
Thank you for signing up to CinemaBlend. You will receive a verification email shortly.
There was a problem. Please refresh the page and try again.