Jeremy Piven Is Making Way More Than His Entourage Co-Stars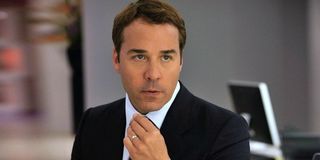 In the same way that Vincent Chase makes umpteen times more money than his merry band of cohorts in Entourage, it turns out that Jeremy Piven managed to negotiate a rather sweet and lucrative deal when signing on for the adaptation of the HBO comedy. In fact, Piven is actually being paid more than double the amount of co-stars Adrian Grenier, Kevin Connolly, Jerry Ferrara, and Kevin Dillion.
During an in-depth profile piece of the posse for The Hollywood Reporter ahead of the film's release, the cast talked at ease about how they each came on-board and orchestrated their contracts. Adrian Grenier explained that their previous contracts with HBO had of course come to an end at the same time as the show. He added:
At this point, it seems that Jeremy Piven was clearly inspired by his own character on Entourage, megalomaniac agent and tough negotiator Ari Gold, and he quickly realised that his involvement was of upmost importance to the film's success. So much so that according to THR's sources he was able to agree a deal that pays him around $5 million, while the other actors were only able to agree deals that paid them just over $2 million (plus backend) to feature.
Let's face it Piven was always going to have the upper-hand in these negotiations. An Entourage film without Ari Gold would have been the most pathetic cinematic adaptation since Marvel Studios decided to make Howard The Duck live-action. Ari Gold's dominance and screen-stealing antics on Entourage are so potent that it's actually a surprise they didn't just decide to make a spin-off film without Vincent Chase, Eric "E" Murphy, Turtle, and Drama. That might be exaggerating his importance just a tad, but it's not that far from the truth.
Entourage picks up where the television series left off. Ari Gold is now the head of his own studio and he's decided that his first big movie in this position will feature his old client and pal Vincent Chase. But when he calls the actor to offer him the role he is surprised to learn that he wants to direct his next film as well as star. Ari decides to bankroll Vinnie's directorial debut, but as the budget spirals out of control, they're forced to secure extra financing by going into cahoots with Texas billionaire Larsen McCredle (Billy Bob Thornton).
Meanwhile, Drama, E, and Turtle are each sure to get up to their own special brand of hijinks, and cameos from the likes of Jessica Alba, Tom Brady, Kevin Durant, Kelsey Grammar, Mark Wahlberg, Ronda Rousey, and Liam Neeson are set to pepper the screen. We'll see if that all makes for a worthwhile adaptation when Entourage hits the screen on June 3.
Your Daily Blend of Entertainment News