Ernest Hemingway Getting Biopic Treatment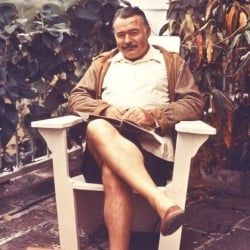 Movies about writers have great potential to be boring-- all that sitting at a typewriter and pondering-- but something tells me Ernest Hemingway's biopic won't be that way. The Gotham Group has optioned the rights to a memoir about the bull-fighting, deep-sea-fishing, hard-living literary legend, who has been a fascinating historical figure for years and continues to intrigue even 50 years after his death.
The movie, according to THR, will be based on A.E. Hotchner's memoir Papa Hemingway: A Personal Memoir. Hotchner wrote the book in 1966, not long after Hemingway's suicide concluded their 14 years of friendship. ON a side note, Hotchner was also Paul Newman's partner in his line of salad dressings and snacks-- which means he's got a whole 'nuther memoir up his sleeve.
Hemingway is one of those historical figures whose legacy has never been settled-- some think he's a giant among men, some think he's a raging misogynist. Either way, he's fascinating, and hopefully a role some talented actor is dying to play. With the right cast, this is one to look forward to.
Staff Writer at CinemaBlend
Your Daily Blend of Entertainment News
Thank you for signing up to CinemaBlend. You will receive a verification email shortly.
There was a problem. Please refresh the page and try again.