Ethan Hawke, Julie Delpy And Richard Linklater Secretly Already Shot Another Before Sunrise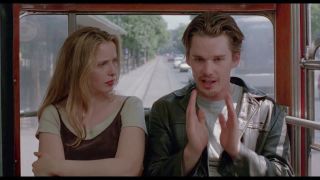 (Image credit: Columbia Pictures)
Julie Delpy and Ethan Hawke had so deftly shot down recent rumors about a third Before Sunrise movie that I honestly started to believe them… which, it turns out, was playing exactly into their plans. Turns out the two stars really had reunited with director Richard Linklater for Before Midnight, a third low-key romance between Celine and Jesse, their third together since 1995's Before Sunrise and 2004's well-received sequel, Before Sunset.
The film, which literally wrapped production yesterday, will be sold at the Toronto Film Festival this week, according to Deadline. In it Celine and Jesse will reunite in Messinia, Greece, and all the three collaborators would say about the plot was this: "It's great to be back together again, this time in beautiful Greece to revisit the lives of Celine and Jesse nine years after Jesse was about to miss his flight." Before Sunset ended with Hawke's character trying to catch his flight out of Paris, with Delpy's character teasing him and telling him he'd miss it. Did he catch it? Did he stay with her? Now we get to know!
It's almost always a terrible idea for sequels to come to a much-beloved film long after the fact, but the series of collaborations between Linklater, Delpy and Hawke has always seemed to be the exception to the rule. It's unlikely anyone other that buyers will see footage from Before Midnight in Toronto, but given how many people love the first two, you can almost guarantee you'll get to see it sometime within the next year.
Your Daily Blend of Entertainment News
Staff Writer at CinemaBlend