Evan Goldberg Updates Us On Pineapple Express 2, Neighborhood Watch And More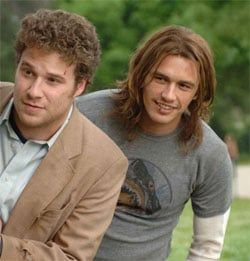 Thanks to the success of both Superbad and Pineapple Express, Seth Rogen and Evan Goldberg are two of the most in-demand screenwriters working today, and on Friday, their third collaboration, The Green Hornet hits theaters. But if you expect that the Canadian duo is going to take some time off between projects, you're dead wrong.
Just this morning I had the opportunity to speak to Goldberg while covering the junket for their upcoming superhero film, and he was more than happy to discuss the multitude of projects that are coming up on his schedule and where things stand.
First up is the long gestating/rumored sequel to the beloved stoner/action comedy Pineapple Express. Since the first film came out in 2008, fans have been wondering if we'll ever get to see the likes of Saul, Dale and Red back on the big screen for another adventure, and Goldberg was happy to say that things are looking really good. The biggest thing that has stood in the project's way up until this point, however, has been Goldberg himself.
According to the writer/producer, they have three versions of the story plotted out and have figured out what they want to do, but it may still be a while before it hits the big screen due to scheduling issues (plus, Goldberg is still hesitant about the idea).
But what about a sequel to Superbad? Goldberg's response was fairly short and sweet: "In the end, really, if we made a Superbad 2 that would be putting a bullet in our head."
Another long gestating project that Rogen and Goldberg are working on is Jay and Seth vs. The Apocalypse, which Goldberg assured me is "Super fucking real." Based on a trailer in which Rogen and frequent collaborator Jay Baruchel star as survivors of the biblical apocalypse trying to carve out a life for themselves while trying not to choke each other out, the project is currently being outlined and the first run-through of the outline has been finished.
But enough with the franchising, right? What about some original stories? Well, Rogen and Goldberg have two of those waiting in the wings in the form of Neighborhood Watch over at Fox and their vulgar CG animated film Sausage Party.
Hired to do a rewrite of Neighborhood Watch late last year, the story is about a group of dads who form a group in the name of public safety, but actually use it as a means to get a break from their families. There are no current plans for Rogen to star, but when I asked Goldberg about their take on the story he explained what drew him to the script, saying that "It's a super fun idea because it's broader than anything we've kind of done before." The partners have already turned in their first draft, which was liked by the studio and they continue to work on it.
As for Sausage Party, Goldberg says that it's the project that they are the most passionate about getting made – and it might be happening sooner than later. Financing may come through for the film as soon as Monday, the script is 100% finished, and they've found the animators that they want to work with. The movie is about sausages that get lost in the grocery store right before Fourth of July. Desperately wanting to be purchased, they try and make their way back to their aisle before it's too late.
Looking at the above, I think Evan Goldberg and Seth Rogen are on a mission to make everyone else in Hollywood look lazy. As we hear more about the projects we'll be sure to keep reporting, and stay tuned later this week for the rest of my interview.
NJ native who calls LA home; lives in a Dreamatorium. A decade-plus CinemaBlend veteran; endlessly enthusiastic about the career he's dreamt of since seventh grade.
Your Daily Blend of Entertainment News
Thank you for signing up to CinemaBlend. You will receive a verification email shortly.
There was a problem. Please refresh the page and try again.