The Everest Trailer Is Haunting And Intense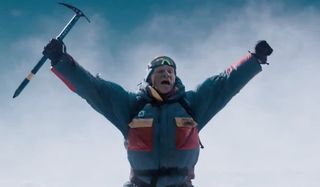 The Everest trailer is "another beast all together." Cut together with that haunting, high-pitched piano pluck and foreboding words, the footage features a cast that includes Jake Gyllenhaal, Josh Brolin and Jason Clarke as they make their way up to the tippy top of the world's most famous mountain, only to get knocked back down in a horrific storm. Watch the first trailer below.
This is one of the rare exceptions when "let it go" is not the best advice. If these guys do, then they'll fall to their deaths.
Everest is the story of an expedition heading up to the infamous mountain. Fortunately, they make it to the top. Unfortunately, they're bombarded by a severe storm that threatens to trap them in this icy tundra forever. Clarke plays Rob Hall, the expedition's guide. With Keira Knightly acting as his wife who calls in to provide emotional support, Rob must drum up the courage to get him and his comrades back down safety. The film, directed by Baltasar Kormákur, is based on a true story of summiters making the trek in 1996. All eight never came back down. Their story also serves as the basis for the book by Jon Krakauer called Into Thin Air. The footage alone is enough to chill you to the bone.
Kormákur and his cast shot the film on location in the Italian Alps and Nepal. He recalled to PEOPLE magazine that they had to transport their equipment on the backs of donkeys...in January...in a 35 degrees below climate. He said everyone had to be on "nose watch" to make sure no one lost their appendage to frostbite. For Clarke, though, this was one of the best times of his life. He told the publication that he wanted "the adventure, the adversity and friendships" that shooting something of this scale would offer. And he got it.
Clarke has been popping up here and there with supporting roles in films like White House Down and The Great Gatsby, but he has since stepped up his game. He had a starring role in Dawn of the Planet of the Apes and he'll appear alongside Emilia Clarke and Arnold Schwarzenegger in the new Terminator movie. Though, Everest will allow him to further flex his dramatic and leading-man chops.
Everest is scheduled to hit theaters on September 18.
Your Daily Blend of Entertainment News