Keira Knightley To Tackle Everest With Jake Gyllenhaal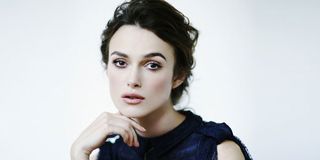 Academy Award-nominated actress Keira Knightley has taken on iconic characters in adaptations of Pride & Prejudice and Anna Karenina. She's gone from witty damsel in distress to merciless pirate in the Pirates of the Caribbean movies. But next up she'll take on a docudrama that is sure to exhilarate and chill us.
The Daily Mail has learned that Keira Knightley is the latest performer to sign on to the in-production Everest. She joins a cast that includes Jason Clarke, Josh Brolin, John Hawkes, Jake Gyllenhaal, Robin Wright, Emily Watson, Sam Worthington, and Naoko Mori. Knightley is set to play the wife of Gyllenhaal's character.
Icelandic director Baltasar Kormákur and Universal reteam off of the action-comedy 2 Guns for Everest, a drama that will chronicle the true and traumatic story of the 1996 Mount Everest Disaster. There two different mountain expeditions attempted to reach the world famous peak. But problematic planning, bad conditions, avalanches and a blizzard complicated matters, leading several to deaths. Everest will be the story of those who died, and those who survived.
Jason Clarke will front the film as Rob Hall, leader of The Adventure Consultants' ill-fated expedition. Thomas M. Wright and Martin Henderson will play his fellow guides, Mike Groom and Andy Harris. Sam Worthington will be Guy Cotter, a New Zealander who worked with Hall. Then a slew of people will play the climbers/clients who followed them up.
Josh Brolin and Robin Wright will play married mountaineers Beck and Peach Weathers. John Hawkes is set for Doug Hansen, who'd made a previous attempt at Everest the year before with Hall's crew. Naoko Mori will portray Yasuko Namba, who at 47 was attempting to become the oldest woman to have ever reach Everest's summit. Lastly, Michael Kelly will play journalist, Jon Krakauer, who was on this expedition on assignment for Outside magazine, and ultimately wrote a book about this experience called Into Thin Air. His account was later contested by Anatoli Boukreev, a guide on the other expedition, Mountain Madness. He eventually wrote his own version of events with The Climb: Tragic Ambitions on Everest. More versions, and more books followed.
In Everest, Boukreev will be played by Ingvar Eggert Sigurðsson. Tom Goodman-Hill will play his fellow guide Neal Beidleman, while Jake Gyllenhaal will play their leader Scott Fischer. The Mountain group is shy of big stars aside from Gyllenhaal. But Vanessa Kirby, Charlotte Bøving, Amy Shindler, and Chris Reilly fill out that band of explorers.
Lucky for Keira Knightley, Fischer's wife was not on this expedition, so her scenes will be shot far away from punishing locations, and in the comfort of Pinewood Studios. Most of the rest of the cast will be shooting in Nepal and the Italian Alps.
Everest is now in production, and is slated to hit theaters on September 18th, 2015. In the meantime, look for Keira Knightley in Morten Tyldum's The Imitation Game, a biography about codecracker Alan Turing, which will open November 21st.
Your Daily Blend of Entertainment News
Staff writer at CinemaBlend.