Every Fast And Furious Movie, Ranked By Greatness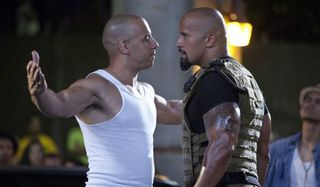 Brotherhood. Bravery. Car crashes. Courage. Fist fights. Family. The Fast and Furious franchise has been fueled by a number of fascinating components over the years, helping the engine-revving series to sustain incredible levels of energy for the past 16 years. Familiar faces have come and gone in the silver-screen's most action-packed soap opera, but the core group -- the "Family" -- has always found a way to stay together, to ride as one from each adventure to the next.
Tragically, that ride changed direction with the release of James Wan's Furious 7. As we all know, founding Fast & Furious father Paul Walker lost his life during the filming of the seventh Fast film. And while Wan was able to figure out a way to finish the movie, the Fast universe had to find new ways to movie forward. And that's where we are at now.
The Fate of the Furious continues the story after Furious 7, following Hobbs (The Rock), Letty (Michelle Rodriguez) and their team as they contend with a rogue Dom Toretto (Vin Diesel). I am updating our list of official Fast & Furious rankings, and I'm including Fate, so we will update its box office standings as time rolls on. The Fate of the Furious is said to start a new trilogy of films, so we expect this ranking list to grow and evolve over time. For now, this is where we think every Fast & Furious movie falls in line.
8. Fast & Furious
Released: April 3, 2009
RT Score: 28% Fresh
Global Box Office: $363 million
The fourth film in the Fast & Furious franchise could have sent the entire series down the drain. While earlier chapters like 2 Fast 2 Furious succumbed to camp, they at least could be chalked up as colorfully entertaining distractions. Justin Lin's Fast & Furious thought it had the distinct advantage of luring Vin Diesel back into the fold, but it forgot to give Dom (Vin Diesel) and O'Conner (Paul Walker) anything fun to play with. The opening sequence involving high-speed fuel tankers is memorably exhilarating, but the rest of the plot -- involving a somber drug runner (Robert Miano) and a race across the Mexican border -- is muddled and dull by Furious standards. No matter how many Fast movies they end up making, this likely will always be the series' lowest point. (We hope, anyway.)
7. 2 Fast 2 Furious
Released: June 6, 2003
RT Score: 36% Fresh
Global Box Office: $236 million
Easily the best title in the bunch, but not one of the best movies. John Singleton's 2 Fast 2 Furious shows what happens when producers mistakenly try to extend a popular brand but are unable to lure everyone back for a sequel. Paul Walker happily reprises his role of exiled law enforcement agent Brian O'Conner. Diesel, however, wanted to do other things. A different director, a shift to Miami, and only half of the macho combination that helped power the first movie led to diminished returns. However, 2 Fast gets credit for introducing both Tyrese and Ludacris -- new actors and crazy characters who would become integral to the franchise's future success. But that's about it.
6. The Fate of the Furious
Released: April 14, 2017
RT Score: 78% Fresh
Global Box Office: TBD
Yep, this is where F. Gary Gray's The Fate of the Furious falls, in my humble opinion. And there are a number of reasons why, but I don't want to ruin your experience with spoilers. So I'll leave it to this. Even by the exaggerated standards of the Fast & Furious franchise -- a series that allowed one of its characters to LEAP through multiple skyscrapers in Abu Dhabi -- the action set pieces and soap opera plot twists on display in Fate are cartoonish and silly. Splitting up the team was a mistake. Vin Diesel doesn't have enough range to capture the emotional turmoil of a rogue Dom. And most of the Jason Statham highlights look like recycled footage from a Crank or Transporter sequel. (You'll understand when you see them.) Because Fast & Furious operates like the Bond movies now, the next film easily could rebound. But there are far better movies that this in the anthology (as you will see).
5. Fast & Furious 6
Released: May 24, 2013
RT Score: 69% Fresh
Global Box Office: $788 million
Bigger isn't always better, which seems to be the lesson learned by Justin Lin as he tried to top the organic insanity of his incredible Fast Five. Furious 6 marks the point where the franchise finally embraces its roots as a long-running soap-opera story, with familiar characters coming back from the dead (Michelle Rodriguez returns as Letty, leading the gang to London to find out why she's back) and forbidden romances powering unnecessary sidebar plots. If anything, Furious 6 is remembered for the ludicrously long action finale on an airport runway that must stretch for miles. But the plot isn't memorable, The Rock is underused, and even a face-off between Dom's gang and a tank didn't have the stunt-sequence impact director Lin might have hoped for. This marks Lin's last turn in the Furious director's chair (for now).
4. The Fast and the Furious: Tokyo Drift
Released: June 16, 2006
RT Score: 37% Fresh
Global Box Office: $158 million
Tokyo Drift is a strange anomaly in Fast & Furious lore. At the time, it was a total reboot -- an effort to take the fast-cars motif of the original film and transfer it to an international location, with new characters (played by Lucas Black, Bow Wow and Sung Kang) following a different and seemingly unrelated story. But then Dom (Vin Diesel) showed up at the end of this movie. And Han (Kang) started contributing to subsequent Fast films -- even though, spoiler, he dies in a fiery wreck in this chapter. How was all of this possible? Answers eventually followed. Still, we couldn't dismiss Tokyo Drift as one-off junk, primarily because it had tons of attitude and admittedly ridiculous but energetic race car sequences... something fans of the series were clamoring for at the time. But the film's box-office disappointments convinced producers to throw dollars at Diesel and Walker to return -- and by the time the Drift timeline caught back up with Dom at the end of Furious 6, we realized just how important to the mythology this chapter ended up being. Plus, the race on the mountain is just badass.
3. The Fast and the Furious
Released: June 22, 2001
RT Score: 53% Fresh
Global Box Office: $207 million
I hear you. It's first in the series! How can it rank third?! Yes, the original gets huge bonus points for being first, as well as for establishing the blueprint that would power all subsequent movies. If you go back into each Fast & Furious movie as a standalone exercise, they all have the DNA of Rob Cohen's muscle-cars-and-crime thriller that supercharged summer audiences with his freestyling action sequences and incredible, bro-mantic cast chemistry. If Cohen doesn't go with Walker and Diesel in the original film, there's no way we're still talking about Fast 16 years later. However, the film might not hold up quite as strong as you remember -- it has a deep, cheesy 90s vibe despite its 2001 release date. And subsequent sequels improved on the formula. Still, it's the strong foundation upon which this series is built, and The Fast and the Furious deserves all the credit for kickstarting the fun.
2. Furious 7
Released: April 3, 2015
RT Score: 79% Fresh
Global Box Office: $1.5 billion
This movie shouldn't exist, let alone be as satisfying as it ended up being. As you know, Paul Walker died during the filming of this movie. Not on set, but still, in the middle of production. And the reality of the situation should have stopped the franchise in its tracks. The Fast & Furious series is all about family, and Walker was a Founding Father. But Vin Diesel fought to push on, and James Wan -- through the magic of movie making -- figured out a way to complete the movie and ALSO give Walker's character Brian some closure. Paul Walker aside, Furious 7 also wins huge points for bringing a spectacular villain into the fold with Jason Statham's Deckard Shaw. It has brilliant set pieces, including a multi-car rescue mission (which begins with parachuting hot rods) and the aforementioned Abu Dhabi skyscraper jump. Furious 7 understands what works in a Fast movie, and performs all of it to the best of its ability. There's a reason this one crossed the $1 billion mark at the global box.
1. Fast Five
Released: April 29, 2011
RT Score: 77% Fresh
Global Box Office: $626 million
The best of the Fast & Furious bunch. The most pure, tough, macho, unapologetic installment of the franchise, and the one that you could bring ANYONE to -- regardless of how they felt about these movies -- and guarantee that they would have the time of their lives. The biggest reason for the unbridled success of Fast Five is the addition of "Franchise Viagra" Dwayne Johnson, who was the perfect foil to Dom, serving as the unstoppable force that runs right into Vin Diesel's immovable object. When they clash, it's like watching two Greek Gods going toe-to-toe. We all win. But the movie had the best pacing, the most eye-popping action sequences (the bank vault scene near the end of the film might be the coolest in the whole series), and I think every Fast film released in the post-Five era will be chasing the high that director Justin Lin injected directly into the veins of this already incredible series.
This poll is no longer available.
Your Daily Blend of Entertainment News
Sean O'Connell is a journalist and CinemaBlend's Managing Editor. He's frequently found on Twitter at @Sean_OConnell. ReelBlend cohost. A movie junkie who's Infatuated with comic-book films. Helped get the Snyder Cut released, then wrote a book about it.