Evil Dead Remake Director Claims Sam Raimi Is Directing Army Of Darkness 2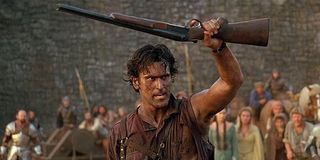 If this some kind of Halloween hoax, rabid horror fans will see that heads roll. Fede Alvarez, director of the Evil Dead remake, has announced on Twitter that the original Evil Dead creator Sam Raimi will return to the franchise to direct the Army of Darkness sequel.
Rumors of Evil Dead 4 are have been floating around since Army of Darkness, the third film in the horror franchise, debuted in 1992. But with Raimi moving on to Hollywood projects like The Quick and the Dead, the Spider-Man trilogy, and Oz the Great and Powerful, it seemed more and more likely that a follow-up of Ash's misadventures with the gruesome Necronomicon would never happen.
Alvarez first mentioned the possibility of Army of Darkness 2 last Spring at WonderCon, insisting that the film could be a precursor to a project that would bring together the characters of his Evil Dead from earlier this year and Raimi's, meaning Bruce Campbell's Ash and Jane Levy's Mia could at some point join forces or face-off. Raimi himself confessed last March that he and his brother Ivan would be working on an Evil Dead 4 script in the summer of 2013, and according to >the original Evil Dead star, the script would be penned to play into the idea of an eventual Ash/Mia crossover.
While Campbell shied away from talk of bringing back Ash when the reboot was being promoted at New York Comic Con last year, he recently confessed to crowds at Wizard World Nashville Comic Con that an Army of Darkness sequel is officially in the works. Really no one other than Raimi should helm such an effort, so it's a great relief to hear he will returning. It remains to be seen what kind of trouble Ash will get into next, much less how his journey can be tied into Mia's.
One obstacle for blending these two film worlds will be merging their wildly different tones. Alvarez's reboot ditched the lunacy and comedy of Raimi's later Evil Dead offerings in favor of a more trendy take on horror. In the wake of torture porn hits like Saw and Hostel, this meant scenes so brutal and gory that they spurred walkouts in some screenings. With Alvarez's Evil Dead pulling in $97 million worldwide, it's little wonder that Raimi has finally found time to get back in bed with Ash and his ghoulish adversaries. But as much of a fan as I am of the original trilogy, I am having a hard time imagining what the future of this franchise will look like.
Here's the trailers for the Evil Dead reboot and Army of Darkness just so you can see how tone alone might be hard to transition.
Staff writer at CinemaBlend.