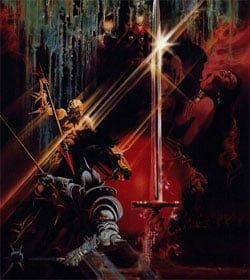 It's been at least five minutes since someone has made a King Arthur movie, so here comes another one. Writer Warren Ellis announced the project on his official site where he says he's working on a treatment for the co-producers of 300. That treatment is called Excalibur. Does that mean it's a remake?
Not really. There's so much Arthur material out there it wouldn't make any sense to remake one specific Arthurian take. Instead they're just using that same, iconic name. You really only have a couple of choices when it comes to titling a King Arthur movie. You can go Sword in the Stone, but that's already associated with the Disney cartoon. You could go King Arthur, but that was used just a couple of years ago. First Knight was used recently but that focused more on Lancelot. So that leaves Excalibur and even though the 1981 movie is excellent, perhaps the definitive cinematic take on the classic Arthurian legend, the name Excalibur symbolized everything that Arthur stands for long before 1981 and continues to do so afterward.
Ellis then went on to give more information about the movie to AICN, assuring them that it differs from previous Arthur movies in "many ways" and that this particular film will be focused specifically on Arthur gathering his knights. That's actually something we haven't seen a lot of in the Arthur movie legend. Usually they gloss over the knight gathering so we can get to the big battles in which they're all fighting. In my head I'm imagining the first half of Monty Python's Holy Grail, minus all the stuff about people being turned into newts.
So we're getting a new Excalibur. Great. Now live up to the name. Since it's being done by some of the people behind 300 you can be sure they have at least one eye on capturing some of that sweet, R-rated, sword fighting friendly audience which showed up for Zack Snyder's movie. Maybe that means we'll get the gritty, hard-edged, made for adults movie any good medieval story deserves.
Your Daily Blend of Entertainment News
Thank you for signing up to CinemaBlend. You will receive a verification email shortly.
There was a problem. Please refresh the page and try again.