Exorcism of Emily Rose Scribe To Adapt James Patterson's Guilty Wives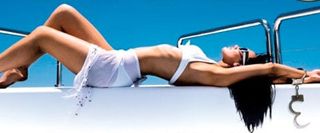 Sometimes we modern women of this fast-paced world need to blow off some serious steam. Am I right, ladies? Well, that's where James Patterson's novel Guilty Wives begins, with four married gal pals taking a trip to Monte Carlo to revel in a consequences-free vacation of excess! But you know how it goes, one drink leads to another, which leads to "an orgy gone wrong," and next thing you know you wake up in the morning, and not only do you not know the name of the guy next to you, but you discover he—and another passionate playmate—are dead!
With a premise this wild, Guilty Wives is begging for a movie makeover, and its getting one courtesy of Trudie Stuyler and Celine Rattray of Maven Pictures THR reports Stuyler and Rattray have just hired screenwriter Paul Harris Boardman to pen the pic, which—despite its potentially dark comedy premise—seems set to be a straightforward thriller centering on the women's quest to prove their innocence in the face of murder charges and much scandal.
Boardman's previous writing credits include the horror efforts The Exorcism of Emily Rose, Urban Legends: Final Cut, and Hellraiser: Inferno, each features he co-wrote with his regular writing partner, director Scott Derrickson. But Boardman is taking the opportunity to take on this side project while Derrickson dives into production on an upcoming supernatural thriller the pair penned called Beware the Night.
With his horror background, we can assume Boardman's approach to Patterson's book will be from a dark place. But it's worth remembering that The Exorcism of Emily Rose played out more like and episode Law & Order: Special Victims Unit than The Exorcist, meaning Boardman has a solid base for this criminal thriller.
Your Daily Blend of Entertainment News
Staff writer at CinemaBlend.