The Extreme Measures Suicide Squad's Director Used To Get His Performances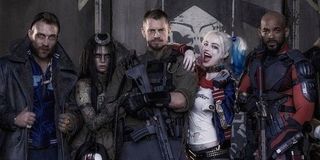 There have been tales spread of Jared Leto's deep-dive into his interpretation of the Joker during production on DC's upcoming super villain team up, Suicide Squad. But as it turns out, he wasn't the only one on set willing to go to great lengths to get a desired performance. Director David Ayer is notorious for being a rather intense dude, and according to Ike Barinholtz, that was a big feature the set.
Currently costarring in Sisters with Tina Fey and Amy Poehler, Barinholtz appears in the movie in some capacity, though we don't know exactly how, or as who, just yet. Talking to Buzzfeed recently, the comedian discussed the director's approach, and though he didn't get into specifics, it sounds pretty extreme, whether his actors liked it or not.
Given what we've heard about Leto's time on set, basically existing as Joker, doing things like sending live rats to his costars, he and Ayer seem to have a similarly method, or at least similarly dedicated approach.
Barinholtz is most known for his comedy chops. He was a cast member on MADtv, and is a writer, producer, and actor on The Mindy Project, among others. Not only is Suicide Squad his highest profile project to date, it looks like it is going to be something very different for the funny man. Though he couldn't reveal any specifics about his still unidentified character, Barinholtz hinted at his identity and teased a nasty disposition.
There are a lot of questions surrounding his role. It doesn't appear that he's part of the Suicide Squad, a team of super villains recruited by Amanda Waller (Viola Davis) to perform off-the-books black ops for the U.S. government. We still don't know who they're after, so could Barinholtz be the target? They're all residents of the notorious Belle Reve prison and sanatorium, and perhaps he's another inmate there. He could be damn fun to watch as some vicious, maniacal metahuman or super villain tormenting everyone around him—that sounds like a good time to us.
Maybe we'll get our first look at Ike Barinholtz in that new Suicide Squad trailer Kevin Smith loves so much. It reportedly features more comedy, which is right up the actor's alley. While we wait for that, however, why not watch the first trailer?
Suicide Squad finally hits theaters on August 5, 2016.
Your Daily Blend of Entertainment News