Fantastic Beasts And Where To Find Them Teases The Beasts' Arrival With New Image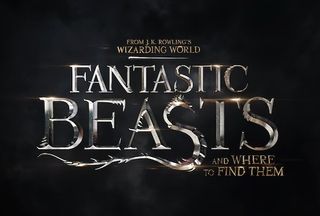 In a matter of weeks, Fantastic Beasts and Where To Find Them will begin it's year-long countdown to its grand debut in theaters. It still seems like far too long to wait. In the meantime, Fantastic Beasts has taken a necessary step in its promotional efforts, debuting on the various social media platforms with a teasy image in the form of fang-tastic title design…
It seems Fantastic Beasts is borrowing the steely three dimensional look used by the Harry Potter films for its title treatment. But in this case, the movie has traded in the Harry Potter's signature lightning bolt look for something even sharper. Some of the letters appear to have fangs or spikes, giving them an excellently beastly vibe that makes us think this title's ready to take a swipe or a bite out of anything that comes near it. Then, of course, there's the S…
The design of the letter looks a bit snake-like, but I'm going to go into wishful thinking mode and hope that it's meant to signify a dragon. Because I really want to see dragons in Fantastic Beasts, and let's face it, it's not out of the realm of possibility, given the subject matter.
The above title card was posted on social media, along with the caption:
Fantastic Beasts and Where To Find Them is based on a bonus book written by Harry Potter scribe J.K. Rowling. Though the book is actually a reference guide for the magical beasts that exists in J.K. Rowling's Wizarding World, the film's story centers on the textbook's author, magizoologist Newt Scamander (Eddie Redmayne), and takes place some seven decades before Harry Potter would go on to attend Hogwarts and study from that very book. The film adaptation is set in New York City and will involve Newt's efforts to research for the textbook. That's about all we know about the plot, beyond the names and other character tidbits that have trickled in with the casting news.
With Fantastic Beasts and Where To Find Them arriving on social media — Tumblr, Twitter and Facebook included — we can only hope that more teases and glimpses of the film are set to come in the weeks and months that follow leading up to the highly anticipated movie's November 18, 2016 arrival.
Directed by David Yates, based on a screenplay written by J.K. Rowling, Fantastic Beasts and Where To Find Them stars Eddie Redmayne, Katherine Waterston, Alison Sudol, Dan Fogler, Ezra Miller, Samantha Morton, Jenn Murray and Colin Farrell.