The One Fantastic Beasts Detail Katherine Waterston Is Able To Share With Us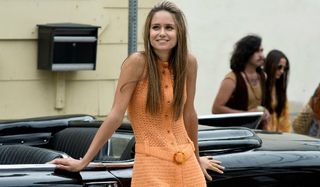 Harry Potter fans are foaming at the mouth for any minute detail on the prequel Fantastic Beasts and Where to Find Them — and Katherine Waterston is well aware of this fact. Cinema Blend caught up with the actress during the press junket for Steve Jobs. As it turns out, there was only one detail the cautious actress was able to reveal.
I asked her what she could tell us, if anything, about her character in the film. After a nervous giggle and brief pause as she contemplated what she could in fact say, she laughed and said, "I have a bob!" You can see her new hairdo for Fantastic Beasts in the screenshot from our video interview above.
Joking, I asked if there was a laser pointer coming down over her head to silence the spoilers. She responded,
Katherine Waterston portrays a witch named Tina, which is short for Porpentina. According to Warner Bros., Tina works her magic in America, and she meets magizoologist Newt Scamander (Eddie Redmayne) on his stop in New York City. As revealed in J.K. Rowling's Harry Potter companion book Fantastic Beasts and Where to Find Them, which serves as the basis for this film, Tina eventually marries Newt and moves back with him to the U.K. She is described as one of the film's pivotal characters.
Waterston and Redmayne are also joined by a cast that includes Transparent's Alison Sudol as Tina's sister Queenie, Tony winner Dan Fogler as Jacob, the new Flash Ezra Miller as Credence, Sweet and Lowdown's Samantha Morton as Mary Lou, Brooklyn's Jenn Murray as Chastity, newcomer Faith Wood-Blagrove as Modesty, and True Detective season 2's Colin Farrell as Graves. Fantastic Beasts marks Rowling's first venture into screenwriting, and it will center on Newt's expedition to discover new and fantastical creatures.
Waterston has a number of credits, including The Disappearance of Eleanor Rigby and episodes of Boardwalk Empire, but she recently broke through in Paul Thomas Anderson's Inherent Vice. She was last seen in Queen of Earth, and she'll be seen next in the Danny Boyle-directed, Aaron Sorkin-scripted Steve Jobs, which stars Michael Fassbender as the Apple co-founder. Waterston takes the role of Chrisann Brennan, the mother of his child.
Steve Jobs will hit up the New York Film Festival before its theatrical release on October 23. Stay tuned for more coverage from the junket.
Your Daily Blend of Entertainment News