The Fantastic Four Casts The Wire Star As Dr. Franklin Storm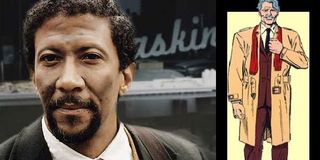 Twentieth Century Fox threw narrow-minded fanboys for a loop when they announced Michael B. Jordan had won the role of Johnny Storm, a character traditionally depicted as white in the Fantastic Four comics. But all those who bemoaned this break from expected typecasting have a new cause to tear at their hair. And it's one that's equally trivial to lament.
THR reports Reg E. Cathey is the latest actor to join the cast of The Fantastic Four. Best known for his recurring roles on The Wire and House of Cards, Cathey has signed on to play Dr. Storm, the father or Johnny (Michael B. Jordan) and Sue Storm (Kate Mara). For some this might spark speculation that in this version of Fantastic Four Sue is adopted, or maybe Sue and Johnny's mother is white. Frankly, in a world where people can change into an impregnable rock monsters, turn invisible, become living flame or stretch their bodies to impossible lengths, I think we can all accept a family that is interracial, or includes adopted children. Or whatever. Let's focus on what's important here: Fantastic Four is continuing to build a truly outstanding cast.
Considering it was less than a decade since the 2005 Fantastic Four hit, many have been scoffing at the idea of a reboot. But first off, so few people remember that last film that its Johnny Storm went on to become Captain America, and no one batted an eye. Secondly, Spider-Man got rebooted to The Amazing Spider-Man, and its sequel is currently doing just fine at the box office. So why wouldn't Twentieth Century Fox give their Marvel property another go, especially in a climate where superhero movies seem destined to win, win, win?
The preproduction on The Fantastic Four has shown a shrewd awareness of where the genre is headed, and what will play well for a possible franchise. With so many superhero movies hitting each year, Fox realized their Fantastic Four would have to stand out. So, they hired a director who broke out with one of the most inventive takes on the superhero genre that we've seen in a while. Josh Trank directed the 2012 thriller Chronicle, which centered on a trio of teen boys (one of whom happened to be played by Michael B. Jordan) who stumble across a strange discovery that grants them with superpowers. It was an original concept with no stars to speak of, and yet Chronicle proved an impressive hit. Not only did it win the praise of critics, but the $12 million superhero movie (a feat in itself) pulled in $126 million worldwide. Clearly, Trank has a vision of superhero stories that speaks to people, and we're pumped to see what he'll bring to The Fantastic Four.
From there, Fox unveiled the stars of Fantastic Four, and by and large they defied expectations - mainly because they are all much younger than many anticipated. With Miles Teller as Reed Richards, Jamie Bell as Ben Grimm, and Kate Mara and Michael B. Jordan as Sue and Johnny Storm, it looks like all four of the heroes will be in their twenties. This is a smart move by Fox, as it gives them potential time to play with these characters before their actors age out of their believability as action stars.
But youth wasn't the only promising sign of this casting. Fox has stacked The Fantastic Four with some of the most enticing young performers working today. From Rabbit Hole to Footloose, The Spectacular Now to the Sundance hit Whiplash, Miles Teller has been winning over audiences and critics with his goofy and ever-game charm for years now. Kate Mara has been devastating television audiences with her gut-churning roles in American Horror Story and House of Cards. Michael B. Jordan has been building his reputation for years with strong performances on Friday Night Lights and Parenthood, but last year earned award season buzz with his starring turn in the brutal biopic Fruitvale Station. Lastly, Jamie Bell won our hearts in 2000 as the titular hoofer of Billy Elliot, but since then he's been taking on some seriously risky fare, from the class warfare thriller Snowpierecer to the hard-R comedy Filth to the hard core erotic drama Nymphomaniac: Vol I & II. And let's also not forget the presence of the talented Toby Kebbell from Control and The East, who will be playing central baddie Dr. Doom.
Now, to all this, Fox has brought in Reg E. Cathey, a storied and talented actor. What we don't know at this point is how major a role his Dr. Storm part will be in The Fantastic Four. In the comics, Dr. Franklin Storm is a surgeon whose life is ruined when his skills can't save the life of his beloved wife. Grief drives him into gambling, which leads to loan sharks sniffing around, and a manslaughter charge that lands Franklin in prison, estranged from his kids. How this might all connect to this Fantastic Four connects to the report that Tim Blake Nelson is up for Mole Man.
Again in the comics (not necessarily the film), Sue is seriously wounded in a battle with Mole Man, and the only one who can save her is her surgeon father. Could this be the arc Cathey will maneuver in Fantastic Four? We'll find out when the film hits theaters on June 19th, 2015.
Staff writer at CinemaBlend.
Your Daily Blend of Entertainment News
Thank you for signing up to CinemaBlend. You will receive a verification email shortly.
There was a problem. Please refresh the page and try again.