Hugh Jackman Still Isn't Signed For That Third Wolverine Movie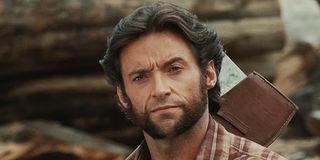 Hugh Jackman is an award-winning A-List star who nonetheless owes his success to comic books. He's played Wolverine seven times now, including the upcoming X-Men: Days Of Future Past, and he'll likely do it again for Fox with a third solo Wolverine adventure. But how likely is that? And how possible is it that Hugh Jackman is nearing his very final SNIKT?
Jackman spoke to SFX Magazine about the character and opened up about his future. Turns out, Fox has a release date for another Wolverine (March 3rd, 2017) but they don't have a Wolverine yet!
Well, points for throwing down the gauntlet and exerting some quality control over these films. But maybe Jackman wasn't even pleased with The Wolverine, seeing as how he calls it "predictable." Jackman doesn't get to be one of the world's biggest stars by just accepting "ok," though if he thought James Mangold's The Wolverine was inessential, he must have been downright suicidal over X-Men Origins: Wolverine. Surely that would mean that Jackman won't rest until Wolverine is captured onscreen to his liking right? No?
A lot of if's here, Hugh Jackman! There were some theories that Wolverine could lead whatever mystery Marvel project 20th Century Fox has lined up for 2018, but that seems slightly in doubt. The Les Miserables star will be 49 years old in 2018 anyway, and it's a bit difficult to keep playing "ageless" when you're pushing 50. With X-Men: Apocalypse set in the eighties, though, that does free up Jackman's contemporary hero to go on all sorts of modern adventures without being tethered to a contemporary mythology. In the interview, Jackman even floats the Old Man Logan storyline as a possible destination for his character, which would put a button on his onscreen travels for good.
This is also just the latest in a long line of actors refusing to be a part of a studio's massive comic movie plans. Just yesterday, Andrew Garfield was waxing on about his eventual exit from the Spider-Man series, and Chris Evans made some noise with Captain America likely advancing his exit from the profession. What's going to happen when the dust settles and the studio runs out of actual actors for these parts?
Your Daily Blend of Entertainment News