Fantastic Four Needs Reshoots, Here's The Latest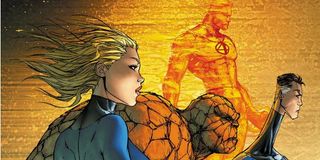 We've been waiting with bated breath for anything — a trailer, a poster, a first-look image— from the upcoming Fantastic Four reboot, but, alas, we've been left waiting long without reward. Will it be a film worthy of Marvel's first family, or another blunder like before? It's hard to say at this point, but to try and ensure that it's the former, 20th Century Fox is bringing production on the film back to the Louisiana set for a round of reshoots. But if you're thinking that this could mean bad things for the film, don't be so hasty to pass judgement.
The folks at Badass Digest confirmed the news of the reshoot, but this doesn't automatically mean The Fantastic Four is doomed to face the same unfortunate fate as Tim Story-directed Fantastic Four movie from a decade ago. In modern Hollywood it's actually quite common for films to undergo reshoots - especially when a lot of action is involved or the crew wants to add more scenes to enhance clarity. For example, Thor: The Dark World went back for reshoots to incorporate more of Tom Hiddleston's Loki, while X-Men: Days of Future Past returned to their Montreal set a few months after the end of production to do some pickups. Even the highly anticipated Avengers: Age of Ultron had to rework a couple of things and go back to set. So the moral of this story is: reshoots do not mean instant trouble.
Of course, fans have been worrying about what Fox is cooking up with Fantastic Four - largely because they have not yet allowed us to see anything from it. That being said, based on what we've heard and read in interviews, it could be unlike anything we'd expect. It does have some pretty powerhouse talent involved, with Michael B. Jordan as Human Torch, Kate Mara as Invisible Woman, Miles Teller as Mr. Fantastic and Jamie Bell as The Thing. We're already intrigued by Mara's Sue Storm being the adopted sister of Jordan's Johnny. There's also Toby Kebbell playing Victor Von Doom, which the actor said is actually an anti-social programmer this time around who uses the username "Doom" online.
As confirmed by Fox, the film will see the titular group of characters "teleport to an alternate and dangerous universe, which alters their physical form in shocking ways." Comic book fans will recognize this as borrowing from the Ultimate Universe in Marvel comics, and while that may have some fans concerned, remember that it's director Josh Trank is at the helm. Chronicle proved him to be a more than capable filmmaker, and Lucasfilm has already entrusted him to direct his own Star Wars spin-off. Until we see otherwise — and you can bet we'll be dissecting that first trailer to death for clues and potential misgivings — we believe that The Fantastic Four is in good hands.
Much like competitors Disney and Warner Bros., 20th Century Fox has some big plans to further expand their comic book cinematic world, and The Fantastic Four will be a huge part of that when it comes out on August 7th.
Your Daily Blend of Entertainment News