Fast & Furious 7 Will Make A Ton Of Money Its Opening Weekend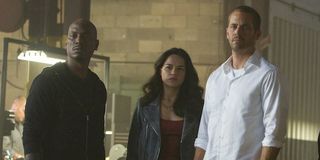 The summer blockbuster season moves earlier and earlier each year. The box-office frame that once started during the first weekend in May currently bleeds into April, and once you read the next interesting fact, you'll begin to understand why.
James Wan's Furious 7, which opens in theaters on April 3, is projected to earn between $110 and $115 million domestically, according to stats cited by The Hollywood Reporter. If the Fast & Furious sequel hits that number, it will be the highest-earning weekend of 2015, besting Fifty Shades of Grey (which opened to $85 million back in February.
Why is Furious 7 expected to gross so much? In addition to the series gaining in popularity over the years – due to a recognized increase in movie quality – there's also a morbid curiosity factor attached to the next Furious film. As you all know, Paul Walker died in an automobile accident while filming the seventh Fast movie, and James Wan had to rely on assorted tricks to complete the film – including employing Walker's two brothers to help them wrap filming. Audiences will turn out in droves on opening weekend to see how Wan replaced the departed Paul Walker… and also to learn how the franchise sends his character off.
You can bet that rival studios – and then industry, as a whole – will be paying very close attention to how well Furious 7 does at the box office. Studios have been testing the waters of April releases ever since Fast Five bowed to $86 million on April 29, 2011. Last year, it was Captain America: The Winter Soldier that tipped the April scales with a $95 million opening on April 4. And while there's no question that The Avengers: Age of Ultron launches the traditional summer season on May 1, Furious 7 is getting a major head start in a few weeks.
Next year, things will move up even earlier. Zack Snyder plans to open his HUGELY anticipated Batman v Superman: Dawn of Justice on March 25. Will that mark the official start of the summer blockbuster season? Because if BvS is even half as huge as we expect it to be, it could dominate the frame all the way from March, through April, and right up until the opening of Captain America: Civil War on May 6, 2016.
Movie junkie. Infatuated with comic-book films. ReelBlend cohost. Resident dad. Extroverted introvert. Wants to see the Snyder Cut. Managing Director at CinemaBlend.
Your Daily Blend of Entertainment News
Thank you for signing up to CinemaBlend. You will receive a verification email shortly.
There was a problem. Please refresh the page and try again.