Watch Every Fast And Furious Movie Plot Explained In 10 Minutes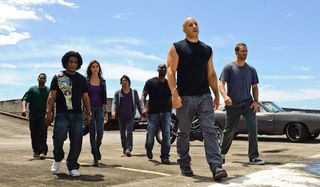 Interested in seeing the latest Fast and Furious installment Furious 7 but don't want to go in unarmed? Check out this 10-minute recap and sharpen up on your F&F skills by learning the hows and whys of Dominic Toretto, Brian O'Conner and the boys prior to sitting in that theater seat.
There's no shame in having to brush up on your Fast and Furious skills. Heck, there are seven films and counting in the high-octane franchise after all. The good news is this highly compact video, courtesy of The Verge, doesn't just pull together all of the footage necessary to get you "up to speed" on the street racing series, it also goes above and beyond to entertain. Yeah we learned all about O'Conner's love for Dom's sister Mia Toretto and about how the gang came up with its plan to rob crime boss Herman Reyes. We also learned more plot points from the third film in the franchise The Fast and the Furious: Tokyo Drift (you know, the sequel with none of the original cast) than we'd probably otherwise ever would have come to know. Just listen to the narrator's enthusiasm when saying the words "race scene." It really does say it all!
Do we need to have seen the prior film installments to understand what's going to take place in the upcoming Furious 7? No, probably not, but when delivered as hilariously and efficiently as this... why say no? Thanks to the above vid I now know that the current installment takes place chronologically after the above-mentioned Tokyo Drift (which actually follows the events of the last film Fast & Furious 6. I know, it's confusing, right?!)
In other Fast & Furious news, we recently learned Ja Rule turned down the chance to reprise his role of Edwin in the sequel to the original — a move that reportedly cost him not only the $500,000 he was offered to bring back his character but also the gargantuan sums of money he'd likely have made off the next four or five films in the series. Replaced by Ludacris, who was thrilled to work with director John Singleton in the 2nd film, he officially walked out on his chance to be in the 16th-highest-grossing franchise in history. I think it's safe to say Luda is smiling all the way to the bank.
James Wan's already-successful Furious 7, starring Vin Diesel, Paul Walker, Michelle Rodriguez, Jason Statham, Jordana Brewster, Ludacris, Tyrese Gibson, Dwayne Johnson and more, hit theaters this past Friday and promises endless supplies of visual effect, crazy stunts, blazingly fast street races and just incase you haven't heard... skydiving cars.
Your Daily Blend of Entertainment News
Your Daily Blend of Entertainment News
Thank you for signing up to CinemaBlend. You will receive a verification email shortly.
There was a problem. Please refresh the page and try again.