How Fast & Furious 7 Actually Handled Paul Walker's Character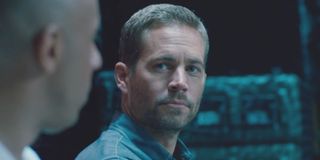 This weekend, we said goodbye to Paul Walker for the second time. The beloved actor filmed the majority of his Furious 7 scenes before he was taken from us too soon, and his brothers, Cody and Caleb, stepped in to help complete the remainder. It's a sensitive task. How do you give fans a thrilling installment and a complete sequel, while honoring Brian O'Conner and the man who made him what he is?
While those involved declined to comment on the matter, other than to say Universal used previous footage of Walker to layer over his brothers' performances, The Hollywood Reporter recently revealed that Peter Jackson's CGI production company Weta Digital was involved in the task. Walker was a major part of the Fast and Furious family, and there was some worry from fans over how the final installment would choose to handle the film. Fortunately, Furious 7's final moments proved to be a touching tribute to Walker and his legacy as an actor, husband and friend.
[Warning: We will discuss major spoilers from Furious 7. If you haven't seen the film or just hate spoilers, turn back now.]
After the crew has come out victorious in their dealings with Deckard Shaw (Jason Statham), we find them enjoying the sun on a beach in the Dominican Republic. Dom (Vin Diesel), Letty (Michelle Rodriguez), Roman (Tyrese), Tej (Ludacris) and Ramsey (Nathalie Emmanuel) are watching Brian and Mia (Jordana Brewster) playing with their son by the water. This is "how it should be," they remark, realizing that Brian's place is now raising a family instead of on the road with them.
Overcome with emotion, Dom stands up to leave. He tells Letty that he doesn't need to say goodbye because it's "never goodbye." We see him driving away down a road, as he recollects on Brian, family and brotherhood. Wiz Khalifa's "See You Again," which was written for Furious 7, is playing the background. As Dom pulls up to a four-way stop, we see Brian pull up in a car beside him, teasing him for leaving without a goodbye. In their last moment together, they start racing as Dom continues to reminisce in voiceover. The road eventually comes to a fork, with Brian veering off as Dom continues on. Closing out the film is an in memoriam montage of some of Walker's moments as Brian, taking us through his first appearance in The Fast and the Furious all the way to Furious 7.
All throughout the film, there's been a question of whether Brian can adjust to a normal life of driving his kid to school and being a good husband to Mia. We hear him say how much he misses "the bullets," and his wife tells Dom that she fears he'll grow bored with his life with her. As an added anxiety, she's having another baby, but doesn't want to tell Brian. She knows that doing so will force him to stay behind with his family instead of joining Dom in the fight against Shaw. However, just before the final showdown in Los Angeles, Mia tells Brian the good news over the phone and tells him to come home to her. If movie cliches count for anything, it seemed like Brian might not be walking away from this "last ride," especially after he started telling Mia how much he loves her in the event he didn't make it home. For his sake, and the fans, he did.
I can't speak for the entire audience in attendance, but there were plenty people tearing up around me over this final sendoff. Diesel is all about family and sees Walker as a brother. We've heard him give a number of emotional speeches in addressing fans and press prior to the premiere of Furious 7, and his character's voiceover in the final scene echoed his sentiments. Looking back on this moment from a filmmaking standpoint, it seemed a bit forced. There were prior scenes in the film where the camera lingered a little longer on Walker, but otherwise the progression was very much focused on Dom's beef with Shaw, which made the last 10 minutes or so slightly ill-fitting. Before I am completely torn to shreds for saying that, no qualms could be found while I was swept up in the moment.
Furious 7 is already surpassing milestones at the box office. This means a Fast and Furious 8 is all but guaranteed. It's still unsettling to think that Paul Walker won't be involved in the future of the franchise, but the final scene of Furious 7 at least leaves us with fond memories of the man who's been there since the beginning. Rest in peace.
Your Daily Blend of Entertainment News
Your Daily Blend of Entertainment News
Thank you for signing up to CinemaBlend. You will receive a verification email shortly.
There was a problem. Please refresh the page and try again.