The Fear Monger: Michael Bay Making A New Omen Remake, Monstrumologist Adaptation In The Works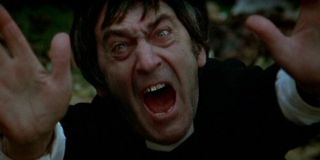 Good day, approachers of all things glowing and doorway-shaped. The scariest story of the week is that Michael Bay's Transformers: Age of Extinction netted the biggest weekend gross of 2014 thus far, and has already earned back its budget and then some with a $300 million global weekend. When one considers the thousands upon thousands of people randomly murdered by all the demolition on the big screen in that movie, it counts as horror, right?
The skies were alight with less robotic things this week, as Universal's long-delayed remake Loft has been dropped from their release schedule, with John Erick Dowdle's catacombs horror As Above, So Below taking its August 29th spot. In Blu-ray news, The Exorcist: The Complete Anthology is coming on September 23, while Leprechaun: The Complete Collection will be released on September 30th to coincide with the prequel Leprechaun: Origins. Finally, below is the first look at prolific director Takashi Miike's vampire yakuza flick Yakuza Apocalypse: The Great War of the Underworld, starring The Raid: Redemption stand-out Yayan Ruhian.
And now – sadly – more remake news.
The Omen is Getting Remade Again
Despite the fact that Richard Donner's 1976 classic The Omen was already remade in 2006 by John Moore – not to mention Lifetime's upcoming televised remake of Damien: The Omen II – Bloody Disgusting is reporting that Fox and Michael Bay's Platinum Dunes are coming together to wring out another Omen remake, presumably also about a young boy with a numerical birthmark who happens to be a living, breathing antichrist. The only thing they can do to change it at this point would be to make the central character a different race, but that would probably raise a bunch of issues in and of itself.
Platinum Dunes, you might remember, has been behind the largely godawful remakes of Friday the 13th, A Nightmare on Elm Street, The Texas Chainsaw Massacre and The Amityville Horror. So feel free to have absolutely zero faith in this one. Plus, the 2006 version, which was a success when all was said and done, had the added marketing bonus of being released on 06-06-06. Maybe they'll put this new remake out on 06-06-16, just with that pesky "1" scratched out.
Adam Wingard's The Guest Drops a Trailer by Your House Uninvited
The fairly prolific genre director Adam Wingard gained arguably his widest acclaim with last year's long-delayed reverse-slasher You're Next; but his next flick, the twisty home non-invasion thriller The Guest, crushed even harder when it hit Sundance and South by Southwest earlier this year. (At least, as much as a Wingard film can crush, which is pretty fucking hard.) Picturehouse just released the first trailer for The Guest, scripted by Wingard cohort Simon Barrett, and it's a wonderfully spoiler-free look into the story without overplaying anything.
Dan Stevens plays David, a soldier who shows up outside the front door of the Peterson household with a story about having been with their son when he died in the line of duty. This is all well and good until people start dying, and it looks like David is to blame. But is he? I have no idea. The trailer, while it looks spicy enough to make the movie look enticing, doesn't really do anything too different in terms of tone or execution. It looks like David is one murder-loving S.O.B. But he probably isn't. Or is he? Also starring Lance Reddick, Maika Monroe, Brendan Meyers, Leland Orser and Sheila Kelley, The Guest will hit theaters and VOD later this year. Just be careful about who you invite to watch it with you.
Fatal Frame Features Gets First Teaser
I won't pretend to know Japanese or anything – the language in this trailer could just as easily be pure gibberish and I'd sit completely unaware – but I do know Fatal Frame, one of the most frightening video games that the PlayStation 2 had to offer. As gamers await the upcoming Nintendo Wii U exclusive sequel, horror cinema fans now have their first look at the upcoming big screen, quasi-adaptation from director Mari Asato (Ju-on: Black Ghost). The trailer isn't in English, but is filled with just enough striking imagery to make this a future must-see.
There are no language barriers involved with noticing a complete lack of cameras, which were the impetus for the video game series, as players would weaken supernatural elements by taking pictures of them. This movie, the first of two Fatal Frame-inspired projects, is reportedly based on the novelization of the first game, and is set within a school dormitory where students' absences are caused by something more paranormal than just the common cold. It's set to be released exclusively in Japan on September 26th.
Warner Bros. Acquired Rights to Rick Yancey's Monstrumologist Series
If you haven't heard the words "hunger games," "maze runner" or "divergent" in a while, maybe you thought the trend of gigantic YA novel adaptations had slowed. (You silly, silly human.) Warner Bros. is taking things to a darker place with Gotham Group and State Street by snatching up the rights Rick Yancey's four-part series that begins with the 2009 novel The Monstrumologist. They've tapped Tarzan and Mortal Instruments: City of Bones writer Jessica Postigo to pen the screenplay.
Set in the late 19th century, The Monstrumologist centers on the creature-obsessed Dr. Pellinore Warthrop and Will Henry, his orphaned assistant. The first novel concerns a most deadly case as Dr. Warthrop is presented with the strange anthropuphagi, a headless, man-eating monster. This case was followed in successive years by The Curse of the Wendigo, The Isle of Blood and The Final Descent.
Dead Within Trailer Traps You in a Cabin
I'm one of the biggest naysayers against generic "group of friends trapped in a cabin" plotlines, but Ben Wagner's indie thriller Dead Within has a couple of wild cards going for it that have me pretty optimistic. For one, the friends headed to the cabin part of the plot is just the backstory, as all but two of them (Amy Cale Peterson and Dean Chekvala) were killed by some kind of a deadly outbreak that has turned the world into a human-less monster hut. It's not entirely different from stereotypical low-budget horror, but we're dealing with characters who are used to surviving alone, rather than having to watch them come to terms with it by screaming "What the fuck is happening?" for an hour and a half. Also, it turns out their biggest threat might not be hiding outside at all, but somewhere within.
The second intriguing aspect of Dead Within is the Blair Witch approach to the production, as Peterson and Chekvala were locked inside their cabin haven throughout the entire production and neither one of them had any idea what the director and crew would be doing in order to freak them out. It seems like it would be more challenging for everyone involved, but I bet the actors' genuine reactions make up for the troubles. Millennium is planning on putting Dead Within out in theaters and on VOD this fall.
Assistant Managing Editor
Nick is a Cajun Country native, and is often asked why he doesn't sound like that's the case. His love for his wife and daughters is almost equaled by his love of gasp-for-breath laughter and gasp-for-breath horror. A lifetime spent in the vicinity of a television screen led to his current dream job, as well as his knowledge of too many TV themes and ad jingles.
Your Daily Blend of Entertainment News
Thank you for signing up to CinemaBlend. You will receive a verification email shortly.
There was a problem. Please refresh the page and try again.