The Fear Monger: Phantasm V Exists, Tucker & Dale 2 Soon Will, But Blair Witch 3 Won't

Good day, throttlers of all things pulsing. It's a beautiful day in the neighborhood as we head towards that most important of all holidays, April Fool's Day. Fred Walton's April Fool's Day is almost required viewing as you stuff peanut cans with spring-filled snakes and inundate Twitter with fake Marvel casting rumors.
March 29 doesn't have any specific horror movies whose screenings are correlative, but it's still a good day to read about the more exciting horror headlines of the week. In bite-sized news, head to the Stanley Film Festival site to see what this year will be bringing to the famed Shining hotel's annual fest. Shameless star Cameron Monaghan has signed on for Franck Khalfoun's new Amityville. And because Lowell Dean's WolfCop was such a hit last week, it's almost necessary to let you guys know you can create your own tagline for the film in a contest via its Facebook or Twitter page, and the winner gets their quote featured on that amazing poster we showed you. Get in on that and check out another image ripe for living room wallpaper.
Now, onto the weekly column!
Phantasm V: Ravager Teaser - Click here for the most popular videos
Phantasm V is Real! And It's Already Been Filmed!
It's hard to believe that it's been 16 years since Angus Scrimm last spooked the bejesus out of audiences in Don Coscarelli's Phantasm IV: Oblivion, but series fans can finally look forward to seeing more of this disturbing story as Phantasm V: Ravager has already been shot completely in secret. Unfortunately, Coscarelli handed the directing reins over to visual effects artist David Hartman, who most recently served as supervising director of the animated series Transformers Prime and worked with Coscarelli on Bubba Ho-Tep and John Dies at the End. The two co-wrote the film together.
As seen in the teaser trailer above, everyone is up to their old tricks again, as Mike (A. Michael Baldwin) and Reggie (Reggie Bannister) finally get to the heart of what this series has been about all these years, and may possibly take down the Tall Man once and for all. Or maybe everyone dies and there are no happy endings. Familiar faces Bill Thornbury and Kat Lester reprise their roles from what is one of the most consistent horror franchises out there, and both Soscarelli and Hartman promise surprises in this long-awaited follow-up. It's truly been ages since I've seen any of these flicks, so it's high time for another visit to Boulton mortuary. Check out the new poster below, which sadly isn't equipped with the same "GoPro camera attached to a bullet" stunts used in the trailer.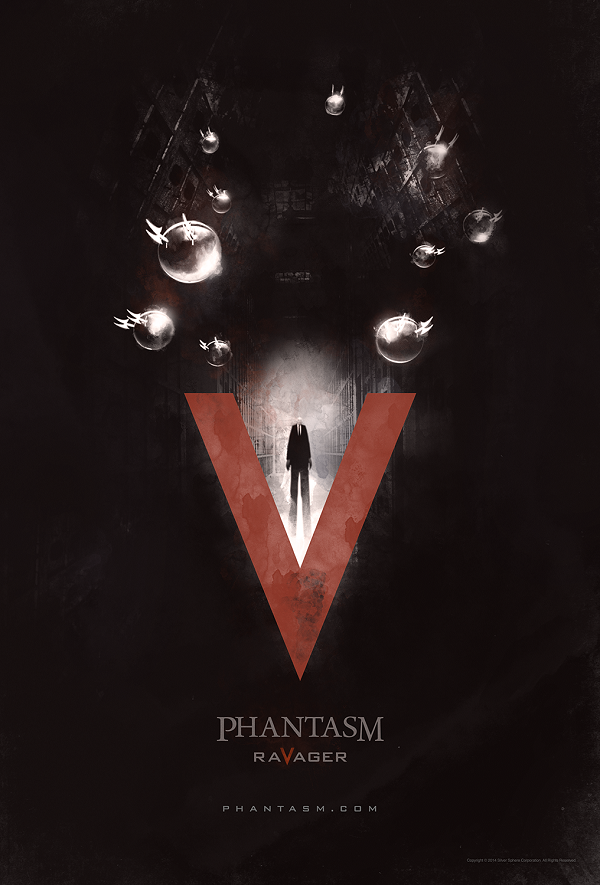 Blair Witch Sequel is Totally Lionsgate's Decision
Anytime Blair Witch Project co-director Eduardo Sánchez promotes something these days, everybody always zips to the question of a third film to follow Joe Berlinger's absurdly disconnected 2000 sequel, especially after talks began anew back in 2012. He's currently making rounds on his return to found footage, the Bigfoot's-gonna-getcha thriller Exists for Lionsgate, and Movies.com wanted to know about the status of this proposed sequel that 20 years from now may rival Ghostbusters 3 in terms of polarizing movie fans merely by protruding into actual existence through conversation.
Because Lionsgate owns the rights to Blair Witch, this current reteaming between director and studio sparked the question. "You know, Lionsgate owns the property, so it's obviously up to them right now," Sánchez said. "We've been talking to them for the past four or five years about doing it, but there's nothing really in the works right now with us. But I think you're right and maybe just being back at Lionsgate will help move things forward on another Blair Witch movie."
I'm a fan of the original and would sit back and watch a third film through closed fingers, but I don't really think it's necessary. And I think a director just blatantly saying something could maybe happen isn't convincing enough to hang a hope on, but studios have no shame when it comes to horror franchises.
Tucker & Dale vs. Evil Sequel is Coming!
It's a wonder why more horror comedies don't actually shoot for comedic actors instead of whatever young people are hanging around Hollywood, as movies like Eli Craig's Tucker & Dale vs. Evil raise the bar for how to turn genre conventions on their head in hilarious ways. It's hard to find a better team than Alan Tudyk and Tyler Labine to steer such mayhem, so it's pretty outstanding that the actors recently announced at HorrorHound Weekend (via FEARNET) that a sequel is currently in development. And don't worry, Labine promises they will not be in "a shitty sequel," before jokingly saying there might be other actors in a shitty sequel, but it won't be them. At this point, an outline has been laid out and the producers are looking for a writer. There also doesn't seem to be word on if Craig will be returning.
Still, the actors say the fact that the producers have added it to the upcoming production slate is about as good as it gets as far as confirmations go. The first film had its share of flaws, including sticking too heavily to the formulaic plot it was skewering, but a sequel could clean that problem right up with a blood-soaked rag. The joy was watching these guys go backwoods for a series of slapstick-ish accidentally deadly scenarios with a group of unlikable partiers. I can't wait to see these guys put into a different situation and location, though I hope they bring the wood chipper wherever they go.
Super Creepy Child Eater Short Film Needs Help Becoming an Even Freakier Feature
Above you got to hear director Erlingur Thoroddsen with producer (and Cinema Blend alum) Perri Nemiroff pitching the worth of their festival favorite short Child Eater should become a full-length feature and why it would be good for you to join in on the Kickstarter campaign to get it made. Let's be clear, though. Their advice was unneeded, as Child Eater is an expertly crafted trope-filled throwback thriller, packing twice as much atmosphere as its 14-minute length calls for. So raising only $15,000 to guarantee the film getting made is an extremely small sum to shoot for. But a filmmaker's imagination is priceless.
The general story in Child Eater is nothing new, though the particulars are where the short nails it. The young and worrisome Helen is babysitting Lucas, a boy afraid of the titular boogeyman, whose rhyming legend includes eating children's eyes to keep from going blind. A tie-in fable about different colored crows also fits in, and we get to meet the girl's boyfriend, who shows up and makes horny moves at her to no avail. Minor faults are overshadowed by the fear-escalating sound and music and blanketing tension. Only the rarest of films can actually scare me, but I will say the darkly comedic touch to the shocks here made me holler out with glee. It "goes there" a couple of times, and I'd love to see Thoroddsen do the same thing many times over in a full-length, with hopefully a little more depth to the legend. Without further ado, turn your speakers up and feast upon Child Eater.
CHILD EATER from Erlingur Óttar Thoroddsen on Vimeo.
This Trailer for The Canal May Ruin Your Life
There are a lot of mini-sub-genres of movies that I will become a completist viewer of, and one of them is "person experiences some kind of media that forever changes their life for the worse." Stuff like The Ring, Session 9 and John Carpenter's Masters of Horror episode "Cigarette Burns," to name a few. So it's no surprise that Park Films' The Canal, from Irish filmmaker Ivan Kavanaugh (Tin Can Man), is now on my list of flicks to keep an eye out for. And if the subject matter didn't already hook me, this is a really unsettling trailer, jolting eyeballs back and forth between a man's growing insanity and the eerie black-and-white film footage that started his descent.
The Canal stars Rupert Evans (Asylum Blackout as David, a film archivist who watches the previously mentioned nightmare fuel that alerts him to the ghastly history behind the house that he and his family are living in. And then madness sets in as every part of his life begins to unravel as the house's spirits refuse to give him peace. And it all happens through lots of freaky imagery, my favorite kind. There's no U.S. distributor on this one just yet, but I'm hoping it's good enough to secure a VOD release here in the future.
Assistant Managing Editor
Nick is a Cajun Country native, and is often asked why he doesn't sound like that's the case. His love for his wife and daughters is almost equaled by his love of gasp-for-breath laughter and gasp-for-breath horror. A lifetime spent in the vicinity of a television screen led to his current dream job, as well as his knowledge of too many TV themes and ad jingles.
Your Daily Blend of Entertainment News
Thank you for signing up to CinemaBlend. You will receive a verification email shortly.
There was a problem. Please refresh the page and try again.