Fifty Shades Of Grey Finally Hires Sam Taylor-Johnson To Direct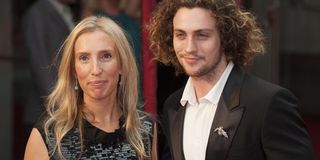 In all the searching and speculating about who might be bold enough to direct the movie version of Fifty Shades of Grey, more than a few people have hoped a woman might tackle the adaptation of the book that was such a hit with female audiences. Somehow, it actually happened. Fifty Shades author E.L. James tweeted that the job has gone to fellow Brit Sam Taylor-Johnson.
If Taylor-Johnson's name sounds a bit familiar, it might be because she shares it with her husband, Kick-Ass 2 and Avengers 2 star Aaron Taylor-Johnson. Sam Taylor-Johnson met him when he was starring in her only previous feature directing effort, Nowhere Boy, in which Aaron played a young John Lennon struggling with his own identity in the years before The Beatles. Sam Taylor-Wood, as she was called before the two married, was previously known as a fine art photographer and artist, and has directed a handful of short films and music videos, including one in support of International Women's Day that featured Daniel Craig as James Bond wearing a dress. You can watch that below:
OK, so that video is pretty out there-- and despite the stuffy biopic trappings of Nowhere Boy, that movie did a pretty good job tackling tough internal emotions and coming-of-age chaos (it helps that Aaron Taylor-Johnson made a pretty impressive John Lennon). Can any of that prepare Sam Taylor-Johnson for something as high-profile and tricky as Fifty Shades of Grey, with its promised NC-17 rating and huge fan base? Probably not-- but can anything?
To learn more about Taylor-Johnson, check out the interview I conducted with both Sam and Aaron at the 2010 Sundance Film Festival, where Nowhere Boy played as part of the festival.
(Sam and Aaron Taylor-Johnson image via Featureflash (opens in new tab) / Shutterstock.com (opens in new tab))
Staff Writer at CinemaBlend
Your Daily Blend of Entertainment News
Thank you for signing up to CinemaBlend. You will receive a verification email shortly.
There was a problem. Please refresh the page and try again.