Fifty Shades Of Grey Trailer Is Coming Later This Month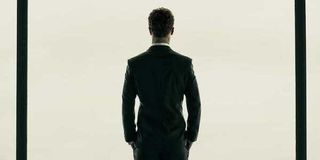 Fifty Shades of Grey fans have been waiting patiently for a glimpse of some footage from the anticipated feature adaptation of E.L. James' steamy romance novel. The bad news is, the trailer's not here yet. The good news is, it's coming relatively soon. E.L. James announced the news herself, notifying fans via Twitter that the trailer will be here July 24.
July 24 is the Thursday before a number of feature releases, including Hercules, Step Up All In and most notably, Universal's Lucy, which stars Scarlett Johansson. Universal is producing Fifty Shades along with Focus Features. Also well worth noting is that July 24 falls during Comic-Con. While the source material doesn't seem especially fitting for the SDCC crowd -- we might have said the same about Twilight, but that at least had vampires -- it's possible Focus is planning to show it there. (Just speculation. We'll update if we hear anything official on that front.)
While Sam Taylor-Johnson's feature adaptation of Fifty Shades of Grey doesn't arrive in theaters until next February (2/13/15), the film wrapped months ago and we've only seen a couple of stills and a teaser poster. Those who attended CinemaCon back in March got a peek at some footage of the film, but there's been no official release of any footage to the general public.
Fifty Shades of Grey will star Dakota Johnson as virginal college grad Anastasia Steele, whose path crosses with Christian Grey (Jamie Dornan), an emotionally troubled billionaire businessman with a taste for the rougher side of sex. We got a peek at Christian Grey last month, and before that there was a teaser still that showed an out-of-focus Anastasia Steele eying Christian from outside his office.
Fans are likely eager to see what's revealed in the anticipated trailer. There's just a few weeks to wait to find out! In the meantime, find everything we know about Fifty Shades of Grey here. And catch the mentioned image of Christian in his car after the jump...