Find Out How You Can Hitch A Ride With Optimus Prime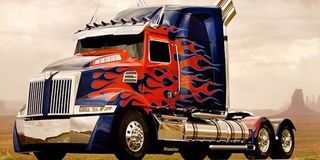 If you grew up watching The Transformers cartoon show, you may understandably have been jealous Shia LaBeouf, who got to live the dream of being up close and personal to the Autobots for Michael Bay's live-action Transformers trilogy. But now Paramount Pictures is giving you a chance to crawl inside Optimus Prime. All you got to do is call.
Autoweek reports Paramount Pictures has joined forces with the car service company Uber for a very special limited time offer that could have Optimus Prime in his truck form pulling up to your home. Well, that is if you live in Los Angeles.
This Saturday Optimus Prime will be picking up passengers as part of Transformers: Age of Extinction's publicity tour. All you got to do to get a ride in this iconic Transformer is select the "Autobot" option in the Uber app, choose your pickup location, and hit "Roll Out." But be warned the demand for rides will be high. Uber's blog stresses that if you're in major need of a ride, Optimus may not be the most reliable option. "There's only one Optimus Prime," their blog warns, "So making contact will be difficult and may take many tries. But don't give up!"
Now maybe you're all caught up on Optimus Prime's fate In Transformers: Dark of the Moon. Well, Michael Bay can retcon when he wants to, and the director of Transformers: Age of Extinction has not only brought this adored Autobot back, he's given him an overhaul.
In the video below, you can get a look at his Transformers: Age of Extinction makeover, from when Optimus Prime made Uber stops in Phoenix, Arizona.
USA Today (opens in new tab) went even more in depth on Optimus Prime's new design, speaking to Transformers: Age of Extinction transportation coordinator Randy Peters, who has driven the sweet ride for each of Bay's adaptations. "They built it from the ground up and they modified it," Peters says of the Western Star truck that's replaced Prime's previous Peterbilt model. "The other one was awesome. But this one is way better. …You have to have a little flash."
This Optimus Prime truck had to be primed for practical stuntwork, adding a Brodie knob on the steering wheel that would allow Peters to spin it fast enough to pull off high-speed turns. This Prime can even drift, Peters teases, "Every time you do a Michael Bay movie you pretty much push everything to the limit of what you can do."
But if you are one of the lucky Los Angelinos who gets a ride in Optimus Prime, don't expect to see these modifications. They had to be stripped out after production to make the machine street legal. Still, a ride in this rig will easily make you the envy of millions of fans.
For a close look inside Optimus Prime, check out USA Today's featurette:
Transformers: Age of Extinction opens June 27th.
Your Daily Blend of Entertainment News
Staff writer at CinemaBlend.