Firefly And Reaper Stars Team Up Vs. Evil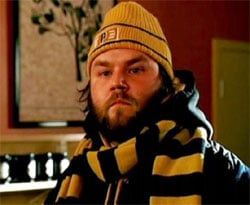 Horror comedies have to be hard to make. Scaring people and making people laugh are two completely separate talents, and to expect one filmmaker to do both is almost unreasonable. Now it may be easier to go so over the top with your horror until it's funny or to so terribly unfunny that it's scary, but making a movie that is legitimately funny and scary is tough.
Eli Craig hopes to do so with Tucker and Dale vs. Evil, which has just picked up two stars. THR states that Tyler Labine and Alan Tudyk have signed on for the indie horror comedy as the title characters. The movie follows two hillbillies who are mistaken for the token murderous maniacs that usually come along with a horror flick. So in essence, we'll be seeing a bunch of scared college kids running from two dudes who have no idea what's going on. Sounds hilarious.
Tyler Labine is great on TV's Reaper and in his 30 second cameo in Zack and Miri Make A Porno. The same goes for Alan Tudyk and his cameo in Knocked Up. It seems like Craig may have a good eye and ear for comedy,
Your Daily Blend of Entertainment News