First Full Joy Trailer Is Incredible, Shows Off Jennifer Lawrence And Robert De Niro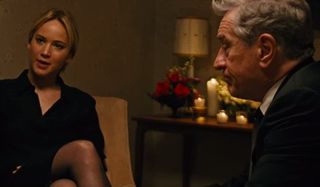 In what's already been a giddyishly good week for trailers, the first full one for David O. Russell's Joy has been released, and it may just top everything else that's been released in the last few days. So much so in fact that you immediately need to scroll down below, click play, and breathe it in all of its majesty. It's the best thing you'll do all day.
There's plenty of things to fawn over when it comes to the glorious first full trailer for Joy. First things first though, let's talk about Jennifer Lawrence. It almost feels unfair that at 25 years old, the Kentucky native already displays a mature and riveting screen presence that most actresses strive for their entire careers. And even though she's already been nominated for three Academy Awards for her performances in Winter's Bone, American Hustle, and Silver Linings Playbook, the latter of which she won the Best Actress gong for, this trailer teases that Joy could be her most complete performances yet.
It's impossible not to take your eyes off Jennifer Lawrence throughout the entire clip, as she powers through each frame with a mesmerising drive and intensity that you immediately know is going to get her into plenty of trouble. Which is basically confirmed when her character remarks that she has confronted "money, crime, and betrayal" in her plight.
Meanwhile, there's also the fact that Robert De Niro appears to be back to his scintillating best with Joy. Sure, The Intern wasn't as preposterously bad as people imagined it would be. But because we all know of the meteoric heights that Bobby D can reach as an actor, we want to see him returning to dramatic roles that can bring out his best.
This is something he most recently did in Silver Linings Playbook, which, like Joy, was directed by David O. Russell, and here he seems like he will be front and center, sparring on screen with Lawrence. And that can only be a good thing. I mean, just look at how he dominates the gas leak scene and gives arguably the worst ever pre-wedding pep talk in the history of mankind.
All of this is possible because of David O. Russell, a director who has rebuilt himself following the troubled productions of I Heart Huckabees and Nailed, and has since overseen The Fighter, Silver Linings Playbook, American Hustle, and now Joy in quick succession.
With Bradley Cooper, Virginia Madsen, Isabella Rossellini, and Diane Ladd in tow, Russell has got quite the acting repertory to work with now. And his charismatic direction looks to be flowing at full throttle with Joy, which will be released on Christmas Day.
Your Daily Blend of Entertainment News
Thank you for signing up to CinemaBlend. You will receive a verification email shortly.
There was a problem. Please refresh the page and try again.