First Look At Johnny Depp Reprising His Role In Pirates Of The Caribbean 5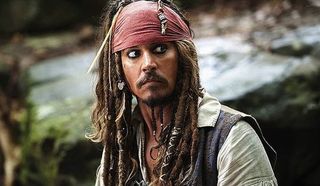 Guess who's back? Captain Jack Sparrow. That's right, Johnny Depp once again dons his pirate gear as the hilarious drunken treasure hunter in Pirates of the Caribbean 5: Dead Men Tell No Tales. Based on the first image released by Pirates producer Jerry Bruckheimer, there's no doubt the trickster has yet again found himself in another precarious situation.
So, what is Bruckheimer telling us with this sneak peek into Pirates of the Caribbean 5: Dead Men Tell No Tales? For starters, Captain Jack Sparrow has apparently found himself in trouble again, most likely of the life and death variety. How do we know this? Well, aside from the obvious fact that the swashbuckler is tightly tied to the mast of a ship, he also has a visible look of fear on his face. His captors, most likely working for yet another his rival, Captain Salazar (played by Javier Bardem), have managed to seriously spook the funny out of the conniving pirate. But as we all know from his track record in four of the previous Pirates films, he won't remain captured for long.
The last we heard from Sparrow, in Pirates of the Caribbean: On Stranger Tides, he led Blackbeard and his daughter Angelica to the Fountain of Youth. However, after saving Angelica's life, and Blackbeard's soul, he left her barefoot, with a pistol and one shot, stranded on an island before rowing off into the sunset and continuing his adventures solo. From the looks of the image from Dead Men Tell No Tales, Sparrow has indeed stumbled upon an exciting quest, complete with a new mystical item to search for.
In the new Pirates of the Caribbean movie, while there is no mention of Angelica showing up, we do know that the plot takes everyone's favorite pirate on a whole new adventure, tracking ghost pirates who have escaped from the Bermuda Triangle. No doubt the trickster will persevere, as he is the protagonist, but as in the past Pirates of the Caribbean movies, it won't be easy, thought it will probably be fun for audiences to watch.
Unfortunately, fans will have to wait nearly two years for the fifth installment of the highly successful series. Walt Disney Pictures' Pirates of the Caribbean: Dead Men Tell No Tales is scheduled to hit theaters on July 7, 2017.
Your Daily Blend of Entertainment News
Your Daily Blend of Entertainment News
Thank you for signing up to CinemaBlend. You will receive a verification email shortly.
There was a problem. Please refresh the page and try again.