First Look At Naomi Watts As Marilyn Monroe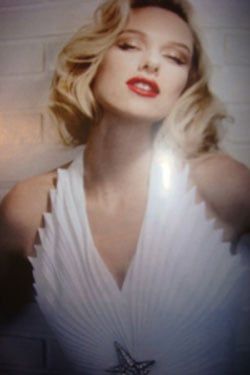 There are actresses in Hollywood who look less like Marilyn Monroe than Naomi Watts, but not many of them. Their physical similarities pretty much begin and end with hair color. Monroe was a buxom, curvy, occasionally chunky, big-boned woman. Watts is kind of a waif. And even though the promotional photo to your right, snapped by Allocine, is incredibly blurry and even though Watts seems to be striking a classic Marilyn Monroe pose, she still looks nothing like her.
Naomi's playing the pop culture icon in a movie called Blonde, currently being shopped around Cannes. It's based on a Joyce Carol Oates's novel loosely based on Marilyn's life. The book is supposed to be pretty intense and brutal, which suits Naomi's considerable acting talent, even if physically she doesn't exactly fit the part. Andrew Dominik, who made the much better than it gets credit for Assassination of Jesse James by the Coward Robert Ford, will direct it. More details on Blonde can be found in our original breakdown here.
Your Daily Blend of Entertainment News