Five More Actresses Join Maggie Gyllenhaal's Vibrator Rom-Com Hysteria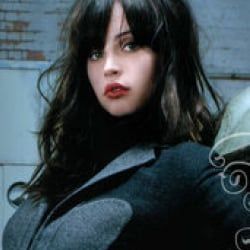 Maggie Gyllenhaal is starring in a movie about the invention of the vibrator, and now five more women have joined her in the cast. That really ought to be all you need to know for now about Hysteria, a romantic comedy also starring Hugh Dancy about the Victorian-era doctor who invented the vibrator as a "relaxation" implement for frazzled housewives. No, really-- that's really how it happened.
Anyway, the actresses recently boarding the project are Ashley Jensen, Sheridan Smith, Gemma Jones, Felicity Jones and Anna Chancellor. You may recognize any number of them-- Jensen played Christina McKinney on 66 episodes of Ugly Betty, Smith has done plenty of British TV work including the sitcom Gavin & Stacey, Gemma Jones is known as Madam Pomfrey in the Harry Potter franchise and starred in Woody Allen's recent You Will Meet A Tall Dark Stranger, Felicity Jones (pictured above) appeared in Brideshead Revisited and Cheri as well as Julie Taymor's upcoming The Tempest, and Chancellor is another actress with more credits in England, including Law & Order: UK, which I did not know existed until now.
All of these actresses are genuine UK citizens save Gyllenhaal, though as one of the six people in the world who saw Nanny McPhee Returns, I'll tell you she does a creditable British accent. Tanya Wexler is directing the film, which also features Jonathan Pryce and Rupert Everett and starts shooting in London on Monday.
Your Daily Blend of Entertainment News
Staff Writer at CinemaBlend