Flashbacks Of A Fool Poster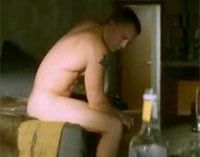 Earlier this week we brought you the first trailer here, and now Daniel Craig's new movie Flashbacks of a Fool has a poster. It still however, does not have an American release date.
I think they've made a horrific mistake with the poster too. Daniel Craig is wearing clothes. All the interest generated by the trailer we dug up centered primarily around whether or not people could see Craig's sack in the trailer's Bond-like nude scenes. Most of the emails I received in response to it started with the words "hot hot hot!" I guess this Craig guy is some sort of sex symbol.
Here's the poster:
Your Daily Blend of Entertainment News