Flight Of The Navigator Remake Hires Safety Not Guaranteed Writer And Director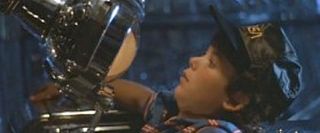 After we misdirected ourselves and followed some hints in an interview he gave over the summer, much of the Internet had come to assume that Colin Trevorrow, director of the most indie hit Safety Not Guaranteed, was in line to direct Star Wars Episode VII. Yes, it sounded a little crazy, but the rumor seemed legit, and in the June interview Trevorrow mentioned taking on a potential project "that will probably create a good deal of ire against me on the Internet," and with a mythology that many people love.
Now it turns out we were just looking toward the wrong nostalgia property. Variety reports that Trevorrow and his Safety Not Guaranteed writer Derek Connolly have been hired to rework Disney's Flight of the Navigator remake, with aim toward making it a directing project for Trevorrow. The original 1986 film follows a 12-year-old boy who is abducted by aliens and, upon his return to Earth, has to figure out exactly what happened to him while he was in space. While many people who grew up in the 80s see it as a childhood classic, Connolly isn't actually one of them. Here's what he told Variety:
Trevorrow's attachment to the story could explain why he was taking the directing job so seriously, and why he seemed devoted enough to it to make many of us believe he was tackling Star Wars. He's probably as relieved as anyone that his second feature ever won't be another chapter in the Star Wars saga-- though it sounds like for him, the Flight of the Navigator remake will be nearly as challenging.
Staff Writer at CinemaBlend
Your Daily Blend of Entertainment News
Thank you for signing up to CinemaBlend. You will receive a verification email shortly.
There was a problem. Please refresh the page and try again.