Fox Wants Adam McKay To Helm A Superhero Movie, Get The Details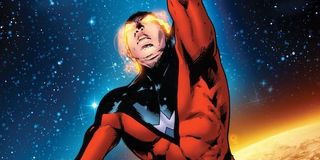 Right now, 20th Century Fox's main superhero movie properties consist of X-Men and the Fantastic Four. The former has enjoyed a lot of success with its main movies and spinoffs, while the latter has failed to take off across two separate series. Now Fox wants to expand its lineup of superhero material, but they're looking outside of Marvel for material. Instead, they're tapping Anchorman director Adam McKay to helm a big screen adaptation of the BOOM! Studios series Irredeemable.
The McKay-directed Irredeemable movie will be penned by Hansel and Gretel: Witch Hunters writer and director Tommy Wirkola. According to Deadline, Fox is intending to build a new superhero movie universe with Irredeemable, but this one significantly more edgy than most of their X-Men material. This will be the second superhero movie McKay has worked on, previously re-writing Ant-Man with Paul Rudd.
Written by Mark Waid, Irredeemable was a 37-issue series (plus one special) published from 2009 to 2012. The story followed the Plutonian, a Superman-like hero who goes insane and starts killing millions of people across the globe. The world's remain superheroes join together to form The Paradigm, the only group that stands a chance of ending Plutonian's reign of terror. As the series continued, readers watched as The Paradigm dealt with their own personal issues in the midst of trying to neutralize the Plutonian, as well as learned about Plutonian's background and what caused him to snap.
Irredeemable was later joined by the spinoff series Incorruptible (also written by Mark Waid), which followed the Plutonian's former arch-nemesis, Max Damage, reformed and trying to be a superhero in his own right. Although Deadline didn't mention anything about an Incorruptible movie, if Irredeemable is indeed setting up its own universe, than it's more likely than not we'll also see Max Damage in live action eventually.
It should be noted that the Irredeemable series was not kid-friendly in the slightest, and judging by the article, Fox won't be shying away from its heavy violence and adult material. Although R-rated comic book movies are nothing new, Deadpool's recent performance showed that they can be critically and commercially successful if adapted with the right creative vision. Irredeemable can enjoy the same kind of success, though McKay should take note that this can't be nearly as comedic as Ant-Man or the other movies he's worked on.
Superhero movies are at the height of their popularity now, but Marvel and DC are the main sources of these kinds of tales for moviegoers. By using stories from other comic book companies, like BOOM! Studios' Irredeemable, it allows audiences to learn about lesser-known characters in the same theatrical setting. If Valiant Entertainment gets their movies off the ground, then the Big Two will have some serious competition on their hands.
Connoisseur of Marvel, DC, Star Wars, John Wick, MonsterVerse and Doctor Who lore. He's aware he looks like Harry Potter and Clark Kent.
Your Daily Blend of Entertainment News
Thank you for signing up to CinemaBlend. You will receive a verification email shortly.
There was a problem. Please refresh the page and try again.