Fran Kranz Replaces Jay Baruchel In Murder Of A Cat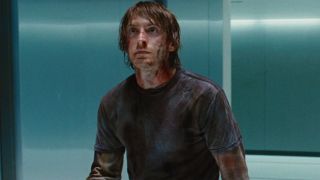 (Image credit: Lionsgate)
With the meta horror-comedy The Cabin In The Woods spirited character actor Fran Kranz stepped up from supporting player to male lead. Critics cheered his ascension as did fans who've followed him since Joss Whedon's short-lived sci-fi series Dollhouse. And with Cabin making a respectable showing at the box office, Kranz's prospects as a leading man are on the rise. Next up, he'll take to the big screen as the love-struck Claudio in Whedon's modern adaptation of Much Ado About Nothing, which will premiere at the prestigious Toronto International Film Festival in September, and following that this quirky and charismatic star will lead a offbeat original thriller called Murder of a Cat.
Coming Soon reports Kranz has signed on to play the comedy-noir's protagonist, a part to which Jay Baruchel (Goon) was previously attached. Penned by Christian Magalhars and Robert Snow, Murder of a Cat follows Kranz's character on a quest to solve the murder mystery of who killed his beloved pet. The dark comedy will mark the directing debut of Gillian Greene-Raimi, wife of director Sam Raimi, and if her sense of humor is anything like her husband's she should prove a great fit for the material, which notably scored a place on the 2010 Blacklist of the most popular unproduced screenplays circulating Hollywood.
Kranz joins a cast that includes Dianne Wiest and J.K. Simmons. While there's no word on what roles the two-time Oscar-winning actress (Hannah and Her Sisters, Bullets Over Broadway) and the underappreciated-but-always-excellent actor (Juno, Spider-Man) will play, their inclusion in the film is instantly enticing. Each member of this trio has a kinetic screen presence and sharp comedic timing, so imagining their shared screen time is already a delight. Sadly, there's no word yet on when Murder of a Cat will go into production.
Your Daily Blend of Entertainment News
Staff writer at CinemaBlend.