How Frozen 2 Plans To Change Elsa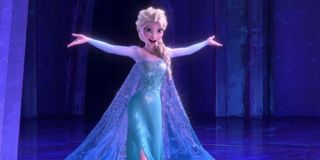 After the crazy success of Disney's Frozen, we pretty much assumed that a sequel would quickly follow. But, it wasn't until this past March that Disney officially confirmed they would produce a follow-up to the hit animated movie. Since then, the studio and those working on the film have been very hush hush about any details, we're still even just waiting on the release date. But now at least we have something to get the wheels turning. Frozen co-director Chris Buck, shed some light on the process of making a Frozen story, and how this time around we're going to see another side of Elsa.
In the first film, Elsa was having a difficult time coming to terms with who she was. Along her journey, things went dark, and it was up to her little sister to save the day essentially by bonding with her older sister. Mostly what we saw of Elsa was a misunderstood villain, but some one you could empathize with. Now, that she has come to terms with herself, and is able to loosen up a bit, Buck says we are going to see a whole new side of her. In an interview with Fandango (opens in new tab) he explained:
We can only speculate on what this means for the plot of the upcoming sequel. Will it focus more on Elsa solely? Or will the focus be on the sister's relationship and watching it blossom with this new, more fun Elsa. We know that it will return us to Arendelle, the original setting of Frozen, so maybe some more sister-bonding flashbacks? Either way, we're happy to know Elsa is back to the good side, and will be able to have some fun with her powers. We weren't able to dive too deeply into her personality, while we got to know Anna much more, so this will be a great opportunity to get to know Idina Menzel's Elsa further.
Still no word on production or release dates, though it does at least sound like the crew is hitting the storyboard. Chris Buck will also be joined with his co-director Jennifer Lee as well as producer Peter Del Vecho for the follow-up project. No official word yet on the returning cast, but both Idina Menzel and Kristen Bell have shown plenty of enthusiasm for the project, so we aren't too worried. We may have to wait a while for more news on Frozen 2 but if you were concerned it wasn't happening, let it go.
Your Daily Blend of Entertainment News
Thank you for signing up to CinemaBlend. You will receive a verification email shortly.
There was a problem. Please refresh the page and try again.