Frozen Is Now The Highest Grossing Animated Film Ever Made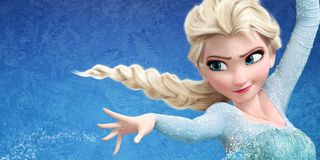 It's official! After weeks of smashing one record after another, Disney's Frozen has become the highest-grossing animated film of all time! The musical about two sisters/princesses took the crown from Toy Story 3, bypassing its worldwide total of $1.06 billion with $1.07 billion. And that number will continue to rise as Frozen is still in theaters around the world in 2D, 3D, and Sing Along variants.
Frozen broke its first record on its opening weekend, when it became the #1 all-time Thanksgiving debut with $67.4 million over the three-day weekend, but $93.6 mil over the five-day. That title was previously held by Toy Story 2, which boasted $57 million on its Thanksgiving release. Tackling two Toy Story titles is all the more impressive when you consider that it toppled two franchise movies with widely established and beloved characters. Yes, Frozen is very loosely based on "The Snow Queen" by Hans Christian Andersen, but it's doubtful that affiliation is what put butts in seats.
Frozen is a more-or-less original movie, and notably one fronted by female characters. While Hollywood has long treated women like some sort of niche audience, recent polls have shown women make up 52% of moviegoers. Moreover, movies made about women that feature proactive and spirited protagonists topped the box office this year. You've got Frozen with its record-shattering successes, and The Hunger Games: Catching Fire. With $424.6 million, The Hunger Games sequel beat out Iron Man 3 for highest domestic grossing movie of 2013. (Frozen trails behind there at $398 million.
But back to Frozen and its many, many wins. It also remained at in the top 10 at the domestic box office for 16 weeks, the longest run since 2002. This helped usher Frozen into the company of the top 10 biggest films of all time. The list now looks like this:
10. Frozen
9. The Dark Knight Rises
8. Skyfall
7. The Lord of the Rings: The Return of the King
6. Transformers: Dark of the Moon
5. Iron Man 3
4. Harry Potter and the Deathly Hallows - Part 2
3. The Avengers
2. Titanic
1. Avatar
And just look at how many of those were sequels with a string of movies bolstering to their popularity before they even hit theaters.
The list of accomplishments just goes on and on for Frozen. It's the first billion-dollar film from Walt Disney Animation Studios (as opposed to the Disney-owned Pixar Studios), as well as Walt Disney Animation Studios' first feature to win Best Animated Feature from the Academy Awards. In 27 countries including Russia, China, and Brazil, Frozen has done better than any previous Disney or Pixar release.
Its soundtrack became an internet phenomenon, spurring countless covers, and earning the #1 position on Spotify for 5 nonconsecutive weeks, pulling in nearly 110 million streams globally. Frozen's soundtrack has gone Platinum, selling more than 1.6 million copies. It's topped the Billboard charts seven times to date. And of course "Let It Go," won an Oscar for Best Song. It sold over 2.6 million single copies, and its Youtube clip has been watched over 160 million times.
Though still in theaters, it seems Frozen's next terrain is home entertainment. Frozen has already become the fastest selling digital release ever. With 3.2 million Blu-ray/DVD units sold on its first day, it's tracking to become one of the biggest home entertainment sellers of the decade.
Your Daily Blend of Entertainment News
Staff writer at CinemaBlend.
Your Daily Blend of Entertainment News
Thank you for signing up to CinemaBlend. You will receive a verification email shortly.
There was a problem. Please refresh the page and try again.