Frozen Sing-Along Release Coming To Theaters Next Week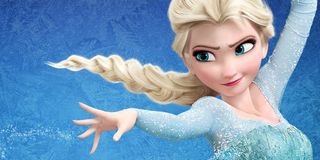 The first time I saw Frozen, I had an absolutely marvelous time. The second time, I was racked with a special brand of anxiety because after mainlining the soundtrack for a week straight I genuinely didn't know if I could keep myself from singing along to all the songs I already knew by heart.
Well, if you're like me, you no longer need to hold back! Disney is releasing a special Sing-Along version of Frozen next week!
The press release from Disney cites fan enthusiasm to the film and its soundtrack as the reason for the Sing-Along re-release, noting that this special version will play at 1,000 theaters nationwide. Dave Hollis, executive president of Walt Disney Studio's theatrical distribution said:
You can see a collection of our favorite Frozen fan-made songs here, but this one seems most relevant right now: (minor spoilers in the middle)
Do I want to go see Frozen? I do. And I will sing along. I will Let It Go!
The Frozen Sing-Along will include the soundtrack's lyrics appearing on the screen with a bouncing snowflake to help the audience follow along. You'll have to check to see if one of the 1,000 screens playing this souped-up version will be near you, but lucky residents of Hollywood can attend an extra special exhibition. At the El Capitan Theatre, Frozen's Sing-Along will be accompanied by an onstage appearance of Elsa prior to each upcoming showing. Plus, flurries will fall in the theater itself!
This spectacular cinematic re-release will surely help Frozen in its journey to become Disney's highest-grossing animated domestic release. Its current title holder is The Lion King, which drew $422 million from the US box office and $987 million worldwide. The two-time Oscar-winner that went on to be Broadway sensation has set a high bar on all fronts, but this princess tale where sisterly devotion trumps love-at-first-sight shenanigans is proving a huge, huge hit that is following in its footsteps. It's only been open for nine weeks, but already Frozen has earned $337 domestically and $773 million worldwide. Its soundtrack has also topped the Billboard charts two weeks in a row, and spurred talk of a Broadway musical of its own. Then of course it's nominated for two Academy Awards, Best Animated Feature and Best Song. With all this momentum, this royalty tale could topple The Lion King and run off with its crown.
Frozen's Sing-Along will hit theaters on January 31st.
Staff writer at CinemaBlend.
Your Daily Blend of Entertainment News
Thank you for signing up to CinemaBlend. You will receive a verification email shortly.
There was a problem. Please refresh the page and try again.