Futuristic Robin Hood Gets A Rewrite, Possibly Meaning The Wachowski Version Is Canceled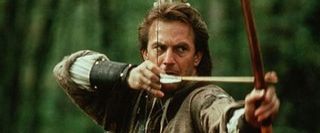 At the end of last year, with the drab failure of Ridley Scott's Robin Hood still pretty fresh in everyones' minds, Warner Bros. decided to move ahead with yet another take on the mythological hero, hiring The Wachowskis to tackle Hood, a "modern, urban" take on the man who steals from the rich and gives to the poor. Since then the Wachowskis have seemingly done everything but that movie, putting together the cast for their next film with Tom Tykwer Cloud Atlas and maybe even developing another project called Jupiter Rising.
So it probably comes as no surprise to hear that Warner Bros. has started developing an entirely different Robin Hood project in the meantime. Deadline reports that the studio has hired Michael Ross to rewrite a "futuristic Robin Hood project" that's set for Nicolai Fuglsig to direct. The project has been in works at the studio since August of 2009, before the Ridley Scott disaster even hit theaters, and at the time Fuglsig was credited with a visual presentation that helped the studio decide it was a vision worth pursuing. But of course, visual presentations do not automatically translate into solid screenplays, so it's not a huge surprise to see some rewrites taking place.
Set in a dystopian, futuristic London, this Robin Hood project seems drawn from pretty similar DNA as the Wachowski idea, and while nothing in the Deadline article explicitly says that the siblings' project has been cancelled, it seems like a pretty safe guess. That's pretty much OK by me-- the Wachowskis have gigantic imaginations that don't really need the familiar framework of old stories, while a newcomer like Fulgsig, who will make his directorial debut here, might be better served stepping into an existing narrative. And the delayed development process doesn't bother me so much either-- it's going to take a little longer to get over the Ridley Scott Robin Hood so I'm ready for another take on the character again.
Staff Writer at CinemaBlend
Your Daily Blend of Entertainment News
Thank you for signing up to CinemaBlend. You will receive a verification email shortly.
There was a problem. Please refresh the page and try again.