Game Of Thrones Star Elyes Gabel Added To Christopher Nolan's Massive Interstellar Cast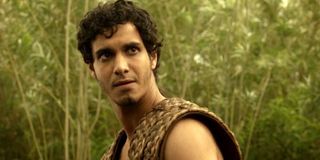 Christopher Nolan isn't the only director who has every actor in town clamoring to work with him, but he does seem capable of rustling up the most diverse and fascinating casts for every single thing he does. As his next original sci-fi effort Interstellar prepares to shoot, Nolan seems to be adding a new, fascinating name to the roster each day. The latest on board, according to The Wrap is Elyes Gabel, familiar to Game of Thrones fans as Rakharo, one of the Dothraki bloodriders sworn to Emilia Clarke's Khaleesi.
Who he'll play in Interstellar, of course, is a total mystery. Nolan is keeping everything but the barest plot details under wraps, revealing only that Interstellar is about a group of explorers traveling through space, into a wormhole, and possibly into a different direction. We don't really need to know the story to be intrigued, though-- just looking over the cast list will do. Nolan started on the right foot by picking Matthew McConaughey for the lead role, then followed that up by planning a reunion with his Dark Knight Rises star Anne Hathaway. From there the cast added Zero Dark Thirty badass Jessica Chastain, ascendant Affleck brother Casey Affleck, veteran character actor Bill Irwin, and of course Michael Caine, who would probably pop up in a Christopher Nolan movie even if were filmed entirely in Japanese and set on a Lord of the Flies-style island full of children.
By the time Wes Bentley was brought on last week we thought the casting extravaganza was over, but then Jack Reacher's David Oyelowo and Cloud Atlas's David Gyasi signed on last week. I spoke to Oyelowo on Friday about his role in Lee Daniels' The Butler, and he admitted he hasn't even seen the entire Interstellar script, which goes to tell you just how hard Nolan works to keep his stories to himself.
Interstellar is due for release on November 7, 2014, which puts Nolan and his team on a pretty short timeline to assemble what sounds like a special effects-heavy effort, complete with Nolan's customary stunning IMAX photography. Feel free to place your bets on when we'll actually know what role any of these people are playing in the film. If Nolan had his way, you probably wouldn't know anything but the title until you actually step into the theater. And given his clout, he'd probably make $50 million opening weekend anyway.
Your Daily Blend of Entertainment News
Staff Writer at CinemaBlend