Transformers 4 And Interstellar Will Be Shot With IMAX Cameras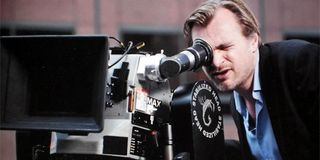 Christopher Nolan has pushed the use of IMAX cameras for narrative films more than nearly anybody else, with some of the most stunning sequences of both The Dark Knight and The Dark Knight Rises playing out in that expansive format. As he moves on to his new original project, the secretive sci-fi story Interstellar, he's continuing his relationship with IMAX-- and has apparently convinced one of his studio siblings to go along with him.
The news at Paramount's Cinema Con presentation tonight in Las Vegas that Nolan would be shooting a "significant" portion of Interstellar using IMAX cameras was not terribly surprising for anyone who has followed his career. The news that Michael Bay will also be using the cameras for the upcoming Transformers 4 was a bit more of a shock. Bay has also been interested in new formats, using IMAX cameras for segments of Transformers: Revenge of the Fallen and 3D cameras for Dark of the Moon, but he never seemed as committed to IMAX as Nolan did, especially after the third Transformers film trumpeted an IMAX release without actually shooting in the format. He'll be using both IMAX and 3D cameras on Transformers 4, which is set to go into production this summer in Michigan in time for a June release next year.
One last tidbit of news: Stanley Tucci, the revered indie actor who's been on a hot streak of blockbusters lately, has also been added to the cast. Between this, his Hunger Games role and his brief Captain America stint, his blockbuster dance card is almost as full as Transformers 4 star Mark Wahlberg's.
Keep checking back for more from Cinema Con as Eric continues bringing you the highlights from the industry event!
Your Daily Blend of Entertainment News
Staff Writer at CinemaBlend