Matthew McConaughey Confirmed As Lead In Christopher Nolan's Interstellar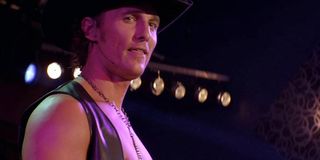 Matthew McConaughey, after having one of 2012's most unlikely breakouts in a variety of excellent roles, has picked the film that will return him to blockbusters-- and it's about as big as it gets. Talking to Minneapolis Star-Tribune, he confirmed that he'll play the lead role in Interstellar, the new sci-fi project to be written and directed by Christopher Nolan.
And clearly McConaughey has already gotten sucked into the vortex of Nolan secrecy, saying only "I''m confirming" and giving no other details on his role. We first heard last week that McConaughey had been offered the lead, and aside from learning the character's name would be Cooper, it told us pretty much nothing else about the top-secret project. All we've known since Nolan decided to rewrite his brother Jonathan's script back in January is this one-sentence description: "[It will] "depict a heroic interstellar voyage to the farthest borders of our scientific understanding."
The last time Matthew McConaughey was the lead in a major effects-driven film, it was 2005's misbegotten Sahara-- and every movie that starred McConaughey after that got increasingly ridiculous until The Lincoln Lawyer started turning things around in 2011. These days McConaughey seems smarter and more talented than ever, and while 4 years ago it might have been impossible to imagine Christopher Nolan seeking him out, now it makes perfect sense. And to think it's at least partly thanks to a strip routine in Magic Mike.
Staff Writer at CinemaBlend
Your Daily Blend of Entertainment News
Thank you for signing up to CinemaBlend. You will receive a verification email shortly.
There was a problem. Please refresh the page and try again.