Gemma Arterton Joins Clash Of The Titans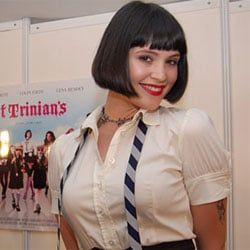 Gemma Arterton, last seen naked, dead and wasting precious fossil fuels in Quantum of Solace, has joined the cast of the Clash of the Titans remake. Empire caught up with her and she talked about the movie, in which she'll play the demi-goddess Io.
Arterton reveals, "Io's not in the original film. Perseus falls in love with her." Perseus is the hero of the story, and the original film followed him on a quest to kill Medusa and fight the Kraken. It seems the new version, which stars Sam Worthington as Perseus, will be focused a little less on, well, cool stuff and more concerned with Perseus brooding about being the son of God. Says Arterton, "Obviously the story is the story, but it's much more about Perseus' mission, and how he deals with being the son of Zeus, and things like that, so it feels a little more about him, and about the issues around that." I really just want to see him cut off a tentacle with the big ass sword in his right hand while holding a half-naked Gemma Arterton with his left one. Do that, and Perseus can whine about daddy his issues all he wants.
Your Daily Blend of Entertainment News