George Clooney Acted As A Butt Double For This Famous Actress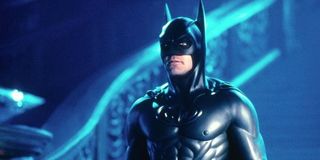 Aside from playing Batman, there isn't much that George Clooney can't do that doesn't immediately turn to pure gold. The man has a had a successful career as an actor, producer, and even a humanitarian. Apparently -- if she is to be believed -- he even has a knack for doubling Sandra Bullock's derriere.
According to Fox News, while promoting the upcoming film Our Brand is Crisis – which Bullock stars, and Clooney produces – the actress revealed that at one point in the film, Clooney acted as a butt double for her in a scene in which her character moons another character.
Seriously, is there anything the man cannot do? Based on a documentary of the same name – as well as true events that transpired in 2002 – Our Brand is Crisis centers on a cut throat political campaign manager (Bullock) who comes out of retirement after a rough career in American politics to take the reigns of a Bolivian politician's presidential campaign. During the course of the campaign, she implements tactics and strategies from American political campaigns and applies them to the Bolivian political process while also she facing off in a more personal battle against a long time rival from her occupation (Billy Bob Thornton). As time goes on, her qualms about the nature of her job begin to make themselves more and more apparent as she starts to realize that political campaigns are not the competitive game she has grown accustomed to, and begins to see them for what they really are: the future for the country holding them.
The film itself was caught in development hell until Bullock contacted Clooney – the duo had been featured together in the 2013 thriller Gravity – and said that she wanted to star in the film. Although her role in the film was initially written as a male character, Clooney stood by Bullock's request and supported the gender swap. Given that the film is being marketed as a dramedy, it makes the inclusion of such an odd "mooning" scene make quite a bit of sense.
Our Brand is Crisis made its official premiere yesterday at the Toronto International Film Festival and has met with generally favorable reviews thus far. The political satire stars Sandra Bullock, and Billy Bob Thornton, as well as Anthony Mackie, and is set to hit theaters in the United States on October 30. Until then we are going to sit here and try not to imagine what Sandra Bullock's definition of a Chia Pet butt even remotely looks like.
Originally from Connecticut, Conner grew up in San Diego and graduated from Chapman University in 2014. He now lives in Los Angeles working in and around the entertainment industry and can mostly be found binging horror movies and chugging coffee.
Your Daily Blend of Entertainment News
Thank you for signing up to CinemaBlend. You will receive a verification email shortly.
There was a problem. Please refresh the page and try again.